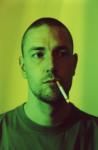 We are happy to say that one of Germany's true heroes of electronic music has signed with Resopal! Dub Taylor aka Tigerskin aka Alex Krueger is his name, and he has already put out more records than we can count on all of Europe's most respected electronic labels like forcetracks, morris audio, raum…musik etc( maybe Hakan Lidbo did more ).
Resopal is now going to release Tigerskin's new record in September as
double vinyl and cd. The Album named "Back in the Days" shows Alex taking new direction with his music - this special blend of retro feeling, measured with harmony and innovation – without losing his distinctive sound. Frankly " Back in the Days" is an album that will be hard to top.
The record starts with "Do it alright" pushing basslines combined with warm sounding house chords together with a charming lady-pleasing voice ( you know Vital from the last Forcetracks 12" ) couldn´t be better to call for the summer on the dancefloors. The album continues with great old school stabs & patterns ( too much to mention all tracks ) to create the ultimate repetitive hypnotic dancefloor slammer while "We were here" reminds to Metro Area without loosing the unique Tigerskin edge.
We're so excited - this record is the best we've heard since … the last record we put out on Resopal!

PRODUCER INFO:

TIGERSKIN is the alter ego of german producer Alex Krüger aka DUB TAYLOR. Releases on labels such as Forcetracks, Morris Audio under his diversemonikers together with 10 years of rocking under his belt have made him one of the respected producers in the global electronic music circuit. His uncountable exceptional live performances are legendary to many people…
Born and bred in Berlin, Alex has been carefully developing his smooth and groovy house signature that is deeper and refreshing than the Ocean at the Marian Depth since he was a teenager. Solidly entrenched in Berlins house underground scene and boasting a growing global following, he plays an important role in shaping and producing numerous of tracks and releasing for labels like forcetracks, strictly rhythm, raum…musik and RESOPAL. Alex's motivation behind the live p.a. or in the studio has been to always add a new wrinkle to dance music's vibrant fabric.