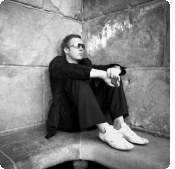 James Flavour started mixing records in 97 at the famous Tresor Club.
His variable and funky sets made him soon earn a reputation as one of the freshest talents of the Berlin house scene. He soon played at all big clubs in Berlin.
In the years 2003/04 he organized Flavoured! with guests like Luciano, Freestyle Man, Jef K, David Duriez, Mandy, Savas Pascalidis, The Spencer Filipsson Experience and more.
At the moment he plays regularly at the Watergate and Cookies in Berlin.

James played in many famous clubs abroad: Off Corso/Rotterdam, Pacha/Budapest, Le Klub/Nizza, Roxy and Palffy Palác/Prag, Synergy Festival/Belgium (2002/03), Barutana/Belgrad, Mazzo/Amsterdam, Aegge Klub + Vega/Kopenhagen, Sarajevo, Zagreb, Skopje/Macedonia, Gent, Bruessels…

Since the year 2000 he plays "The Fritz Loveradio" at Cafe Schoenbrunn where he was for many years the only one who played a special four hour set. This "Loveparade" party got an Radio Award 2002 and was voted in the Groove Magazin as one of the best top ten "Open Air Parties" in 2003.

In the year 2000 he became a strong member of Highgrade Records where he released two highly respected records. His tracks "Dirty Fantasies" and "Pornero" were seen in many charts of good house DJs.
In 2004 a dream for James came true. David Duriez gave him the opportunity to release two Eps on one of the best french house labels Brique Rouge.
He also records as half of Dirt Crew with Break 3000 on different labels like Moodmusic and My best friend.

There are more things coming up so watch out for James new projects.
Stay tuned!