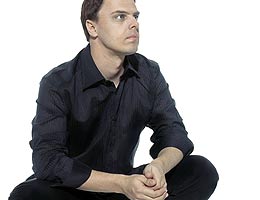 Markus Schulz has been winning over fans with his dark, brooding, melodic productions and DJ sets. 2004 marked his debut at 32 on the DJ Mag Top 100 DJs. Markus has captured a vibe in trance that was previously only heard in house music.

With his Coldharbour Sessions compilation release in March of 2004, the foundation has been laid out for what is being labeled as the next big sound in trance. Dark, thick basslines, tranquil music box melodies, with frantic energetic percussion and epic strings. His productions have been released throughout the world on some of the most respected labels in the electronic dance music industry: Electronic Elements, Armada, Anjunabeats, Lost Language, Yoshitoshi, Global Underground, Renaissance and Bedrock just to name a few. Markus has had the opportunity to work with artists like Jewel, Oceanlab, Gabriel & Dresden presents Motorcycle, Karada, Telepopmusik, Fat Boy Slim, Miro, Book Of Love, Depeche Mode, Everything But The Girl, Madonna, Blue Amazon, and PQM. Harder, darker, Markus always delivers up a musically sensitive yet moody monster of a mix.

Just one glance at the play lists of some of the biggest DJs on the planet, and you will see Markus Schulz's influence, as many of the top DJs are playing his notorious sound. Markus though continues to stay ahead of the pack, in the process inspiring a new generation of trance producers by working closely with many of the artists that are inspired by this new sound, encouraging them and offering advice from his experiences from his over a decade of production and DJing.

His continued growth and success as been equally affected by his internationally broadcasted radio show "Global DJ Broadcast" which has proven to be one of the most listened to radio shows worldwide via the internet. Markus' show can be heard every Sunday night from 1am-5am on WPYM 93.1fm and simulcast on Trancesphere.com, Dancenation.com and ETS-global.org. The U.S. dance community has labeled his show as "The most important outlet for the global music scene on American radio". Hundreds of thousands of listeners tune in every week either on the radio or over the internet to hear Markus's live sets from his gigs around the globe and mixes from his superstar dj guests.

From his radio show to his productions and his live sets Markus continues to evolve bringing intelligent melodies and credibility to trance music.
Performances