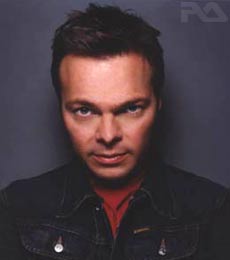 Pete Tong is Britain's best-loved dance DJ. He doesn't need an award to prove his popularity and he won't act cool to keep his credibility. The host of Radio 1's ground-breaking Essential Selection show for a staggering eight years, he works within the mainstream, but is respected by the underground.

Born in Dartford, educated in Rochester and inspired in his teens by the underground soul scene of the late seventies (and the music of the time…by the likes of Funkadelic, James Brown & Evelyn Champaign King) Pete's first DJ job was at a wedding. He was 15 years old. A natural born entrepreneur, he began promoting local bands, booking gigs in a nearby town hall and - as part of the Kent 'Soul Mafia' - playing black soul & dance music in every club that would give him a gig. After leaving school, he bought a Transit van and set up his own sound system.

In 1979, Pete became a journalist for monthly magazine Blues & Soul. By the following year, he was features editor, a position he would hold until '83. At the same time, he was appearing on local radio stations such as BBC Radio Medway and London. Then he got his first break with Radio 1, presenting a regular 15 minute 'magazine' feature on dance music on Peter Powell's show.

Pete's knowledge of the dance underground, coupled with his ear for a crossover hit, saw him appointed A&R manager at newly-founded independent label London Records in '83. While looking after the careers of pop acts like '80s girl group Bananarama, he continued to pursue his budding radio career. Put off daytime shows by the discovery that the DJs didn't pick their own playlists, Pete accepted his own programme on Kent's newly-launched Invicta station in '84. Influenced by radio DJ heroes such as Robbie Vincent, Greg Edwards and Emperor Rosko, he hosted a soul show there for three years, before briefly returning to Radio London. Almost immediately, however, he was poached by Capital Radio, where his weekly dance programme became cult listening with London clubbers.

In '88, in the wake of Acid House, Pete launched his own record label, FFRR, through London Records. His aim was to both embrace the new wave of electronic music flooding into the country from cities such as Detroit and Chicago, and continue to promote his first love, black dance artists.

Inevitably, Pete managed to do both, simultaneously. FFRR's next releases were cut'n'paste production 'Bass (How Low Can You Go?)' by Simon Harris and Salt'n'Pepa's 'Push It', both cool club tracks which went on to storm the charts. They were followed by a stream of influential hits from signings such as Steve 'Silk' Hurley, D Mob, Smith & Mighty, Cookie Crew, L'il Louis The Brand New Heavies, Orbital and, of course, Goldie.

In '91, with an indigenous club culture now thriving in cities across the UK, Pete quit Capital Radio to go national. His Essential Selection show every Friday evening instantly established itself as a welcome to the weekend for a new generation of young clubbers. Heavy on house, but with room for the best breaking techno, jungle, hip hop, funk and soul sounds from both Britain and around the world, it appealed to all tastes in contemporary dance music. Moreover, it merged the cutting-edge with the mainstream. Pete became the country's best-known dance DJ, while keeping his credibility intact.

Perhaps Pete's biggest contribution to British pop to date was his involvement in the reshaping of BBC Radio 1. When the nation's biggest radio station decided to re-invent itself in the mid-'90s, controller Matthew Bannister knew precisely who to ask for help. After Pete's ideas were taken on board, the likes of Tim Westwood, Danny Rampling, Judge Jules, Carl Cox and, more recently, Fabio and Grooverider, started to appear on Radio 1's DJ roster. In addition, the station's daytime playlist began to reflect the extent of the impact of modern electronic music on British kids. In January '99, Pete enters his eighth year as the presenter of Essential Selection. With over a million and a half listeners each week, it remains the UK's most popular dance music radio show, thanks to its host's consistent ability to change with the times. Its success has also spawned a series of compilation albums, released by FFRR, which to date have sold over 750,000 copies. The latest - which boasts a tangerine-themed cover and the mixing talents of Tong, Paul Oakenfold and, if you're lucky enough to bag a limited edition copy with a bonus CD, Carl Cox - comes complete with Madonna's seal of approval. It is the first time ever that the singer has sanctioned the appearance of one of her songs (Drowned World) on a dance mix compilation.

During '98, Pete made his first forays into television, an area he is keen to explore into the Millennium. In November, he donned different guises to present Clublife '98, a 90-minute, BBC-broadcast documentary based on Mixmag magazine's annual dance awards. He is also currently in-house DJ on Ian Wright's weekly chat show series. However, when he does appear with his own TV programme, it won't be for want of publicity. In the past, he has turned down offers to present Radio 1's high-profile breakfast and Top 40 shows, not to mention Top Of The Pops.

In the meantime, Pete has plenty on his plate. He not only saw out '98 with an Essential selection UK tour, but still DJs at clubs all over the world, owns a production company which makes radio programmes presented by the likes of Danny Rampling and Judge Jules and continues to work in A&R for London Records. His pop star credentials include A&R-ing Shakespeare Sister's hit Stay, which topped the charts for six weeks in '92, and played a big role in signing All Saints, whose career he continues to oversee. He was recently musical director on films, Human Traffic and The Beach.
Performances