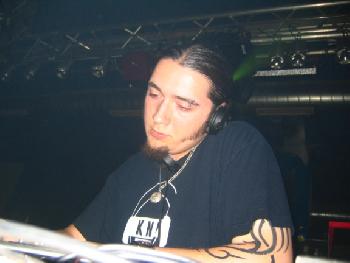 Hard blasting hard techno at 150 bpm and more on 3 or even 4 decks: that's Frank Kvitta. Just 22 years old, he knows how to rock his crowds and has already had bookings all over the world, including clubs like Sullivan room in new york, tunnel linz, K4 in slovenia, Suburbia in Italy, Tor 3 in Germany and many many more. He had allready gigs in Holland, Belgium, Austria, USA, Poland, Slovenia, Italy, Bulgaria, Croatia, Hungary Mexico and many more.
He is also very successful as a producer, having released and releases planed on labels like Lifeform, Artillery, Carnage, Bitshift, Schubfaktor, Crowbar, Combat Skill, Highball, Free Vision, Audio Assault, Kne´Deep, Patterns Rec., Inflicted Rec., Friendly Fire Rec., Insane Rec., Abstract Rec., Acid Trax and many more…
Furthermore he and ViperXXL started their own label "Insane Records".
First release on insance was together with ViperXXL and Major Rush himself.

Frank started as a DJ 1997 when he found a tape of Sven Väth. He liked this kind of electronic music and decided to buy records and started with some friends to dj. 2000 Frank started to play at small partys around germany. 2001 was the year when he decided to produce his own tracks. He doesn't wanted to be longer just a dj. When Frank gave DJ Rush 2001 a demo cd of his own tracks, Rush gave him the chance to release on his well known label Kne'Deep Rec. 2002 He released his first remix on a Technolabel in germany. Frank's style started to get harder and more agressiv. more releases where coming 2003. That was the year where all started. He became his first gigs outside germany. He released his first EP's on labels like Schubfaktor, Artillery Rec.and many more.


In 2003 he became a member of the Abstract crew, and has enjoyed many gigs with his colleagues Mario Ranieri, ViperXXL, DJ Amok, Sven Wittekind, Andreas Kremer, Arkus P., O.B.I., DJ Mahatma, Chris Noise, Robert Natus and Kaoz. 2003 and 2004 Frank had his first radio gigs on stations like Radio Rythmix and Sunshine Live in germany. This year he also released a mix compilation together with ViperXXL named "Schranz Total 7.0". upcoming releases together with Pet Duo, Torsten Kanzler and many more are planned. Frank has earned his place among the big names of the new "hardtechno generation".
Performances