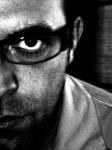 Oliver Henares was born in Barcelona in 1979 and at a young age began to listen to old records from all genres of music including funk, pop, rock, acid house, and hip-hop. Always influenced by electronic music, Oliver created his alter ego Swat-Squad with his brother Rubén as an artist platform and organized some expos and electronic music parties dedicated to 3D graphic design. In 1998 Oliver started to DJ at clubs in his city, playing electro, house and techno. His desire for more advanced musical expression motivated him to produce electronic music in the year 2000. At that point Swat-Squad had become focused on music production and DJing, but only in the beginning, because in 2001 Oliver introduced his live act with a more minimal concept.
In 2003 Swat-Squad created their own platform PulseWith Records as a home for their productions, but beyond that to create a new label featuring the most advanced artists, such as Maetrik (USA), Jeff Bennett (SE), John Tejada (USA), Jaumëtic (SPA), Pheek (CAN), Paul Keeley (CAN), Reynold (FRA), Mark Henning (UK) or Alecs Marta (SPA).
In January 2004 Swat-Squad had their first release on PulseWith entitled "Show me The Way", a VA with tracks by Maetrik (Treibstoff) and Jaumëtic (Regular), positioning PulseWith as one of the most notable labels in Spain synchronizing both House and Techno in a unique and minimal way.
In addition to the success of their own label PulseWith, this year has been a prolific year for Swat-Squad, with contributions to labels such as Frankie Records, Traum, Trapez, Regular, Morris Audio City Sport, Trenton, Software, Fat32 , Thinner, etc. Oliver´s productions have been well received worldwide, resulting in performances across Europe (Berlin, Cologne, Barcelona, Mallorca, London, Riga, Edimburgh…) and also in the states (Minneapolis).