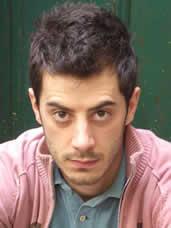 Touane (pronounced too-ane or too-on-ae) is Marco Tonni, born in Rimini, a seaside tourist destination in the central north of Italy.
After playing bass and guitar in rock bands during his youth, he began to experiment with electronic music production when he was 17, creating music which hoped to reconfigure the blurred memories of his favorite songs into a new and signature sound.

He spent his university years away from home, in the much more stimulating town of Bologna. Marco started collaborating with other musicians who formed a real community for him. With them, he achieved small but important successes in the city. Focusing on DJing and performing electronic music at the famous Link club as well as exchanging ideas and opinions about software, production techniques and more widely, their love for music.
During his final two years in Bologna, he worked to spread a fresh kind of do-it-yourself musical aesthetic for non-musicians. Marco and his colleagues organized a series of events and parties which culminated at the end of April 2004, in the Homework Festival, which showcased the panorama of the young and emerging computer artists and musicians in that isolated but openminded college town.
Then, as he continued building relationships and friendships with artists of the northern European minimal music scene, he finally decided to move to Germany.

Since May of 2004, Marco has lived in Berlin, working on his solo material in both the dance and listening genres. He also collaborates with Stewart Walker at Persona Records in both the office and the studio and with Stewart's help and guidance, he's working to develop and distinguish his own sound. Marco has also released with the Paris/Berlin-based imprint Trenton records, spends hours perfecting his cappuccino technique and produces in a small bedroom studio in Kreuzberg.