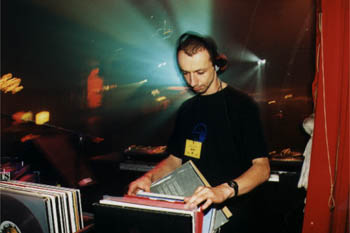 It was in August 1991 when DJ Zero One (aka Sander Friedeman) (picture) and Arno Peeters (alias Tape TV) did their first live performance during an underground party. They had only just started recording together back then. They chose Random XS as their project name and, although initally intended as an one-off project, on that memorable day a major force in techno and acid was founded.




Sander (1968) and Arno (1969) had met each other at school in 1988, right at the time acid house was reaching its climax. Arno introduced Sander to the Centre for Electronic Music (CEM) in Arnhem, where they followed several courses in studio technology, analog synthesis and composition. Arno, a self-educated experimental tape-artist, had already released two EP's and a CD on Antler Subway with the electronic band Voltage Control. Sander was DJ-ing since 1984, combining 80's disco and funk records with hip-hop, electronic wave and, later on, house and techno. Both had co-operated on several other projects before, but influenced by the overwhelming energy of the first acid parties in 1988, they joined forces to form Random XS.




After their first gig, a tape was sent to Saskia Slegers of Djax-Up-Beats. She was very enthousiastic about the material and in April 1992 the first Random XS-12" 'Give Your Body', named after the 12 minute acid journey through subspace, was released. The track soon was regarded as a classic in its genre and has been re-pressed several times since. It also appeared on numerous compilation- and mix CD's.




Not much later solo records from Sander (as Zero Zone) and Arno (as Sp@sms) were released. The second Random XS release was the 'Y.A.M. EP' ('Young Angry Men'), another classic record containing the immensely dark 'Fading Away' (by Sander). German DJ' Sven Vath put it on the number one-spot of his chart and asked Random XS to play live at his renowned Frankfurt based 'Omen' club (picture).




In the meantime Arno and Sander started together with DJ White Delight the 'AWAX Foundation'. Part of this was the recordlabel U-Trax, ran by DJ WD. The first 12" on U-Trax was made be DJ WD and Sander. Shortly after, the third Random XS EP, called 'As it takes', was made entirely by Sander. As the pun intends, it's all acid on this record, ranging from the distinctive Random XS 'dark dub'-style to the more dance-floor orientated live-tracks.




Halfway 1994, due to different views on the artistic direction of the project, Arno left Random XS. His place was taken by Frank de Groodt (1974), another talented young guy from the area. He had just released a deep ambient techno CD on Djax as The Optic Crux. This CD was engineered and mixed by Sander and he also made a remix of one of the tracks. Frank originally was invited to support Sander during the Random XS live gigs only, but soon his contribution to the project extended to co-producing as well. As a result, the double 12" 'Encounter' featured The Optic Crux. On this record, made between recording sessions of the Optic Crux CD, a more monotonous kind of techno can be heard, a lot more trippier than the previous stuff.




In the beginning of 1996 the 'Frantic Formula EP' was released. This is another solo-production by Sander and presents four minimal techno and acid-tracks. The long awaited full-length CD and double-vinyl album 'Braincloud' has been released in October 1997. The dark-edged acid/techno style from the previous records is taken to another level. Besides that, some 'old' tracks are included, some in different mixes. The classic Give your body' is remixed by Detroit DJ/Producer Claude Young.




The live reputation of Random XS grew to international proportions during the years. They played in clubs and on big raves in Paris, Cologne, Basel, Glasgow, Brussels, Munich, Vienna, the 1995 Love Parade in Berlin, the 10th Mayday in 1996 (picture) and the promised land: Chicago. On stage, Sander is in control of the sequences, mixing the signals and adding special effects, while Frank is manipulating the bass- and synthsounds and the rhythms. Unlike many 'live' house acts, all music is created 100% live, thus providing a completely random factor: ingredients are taken out and replaced by different ones all the time, so no two Random XS gigs are alike. The live atmosphere adds a new and unpredictable dimension: a random excess!




Besides Random XS, Sander works as a sound- and video engineer. He has his own professional recording studio called 'Point Zero Recordings'. It's located in the former 'Factory' building where Utrechts first acid parties were organized, back in 1988.

From 1995 untill 1998 he did several tours with Trance Induction (the organical techno project from Utrecht-based producer Tjeerd Verbeek). Since 1998, Sander also performs live with The Operator, the minimal electro funk project from Frank de Groodt.

As a DJ he plays intense, minimal, innovating, dark-edged techno and electro. Sometimes he combines these genres into one set, but more often he plays pure electro or techno sets.

In 1999 a MIDI-controlled effect processor was introduced in his DJ-sets. The use of extreme low- and hi-pass filtering, beat-sync delays with feedback, reverb and other special effects adds a lot of extra depth and totally new possibilties to the music. When available, he also uses 3 decks to make his sets even more intense.

Since Januari 1999 he's involved in organising small innovating techno parties with the now-legendary Technoir organisation. He's also one of the resident DJs. Guest DJ's were (a.o.) Robert Hood, Richie Hawtin, Suburban Knight, Robert Armani, Pacou, G-Force, Locutus, Funckarma, Serge (Clone) and the Delsin Label crew.

From 2000 until june 2001 he had a bi-monthly residency at Utrecht-based PLF club. Since August 2001 he is involoved in the monthly TechnoLAB party's at De Vloer in Utrecht, together with DJ Drifter.
Guests were (a.o.) James Ruskin, John Acquaviva, Paul Damage, Secret Cinema (live) and Mike Dearborn (live).

In 2001 he played at the 'Five Days of…' festival at the Melkweg, Amsterdam and at the Lowlands Festival. Februari 01 2002 he played at Awakenings.