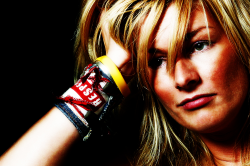 Photo by Marco Klein

History from 1994 till 2000

1994 was the year that DJ Marcella (1974) from Amsterdam started to mix records at her friends place, just for fun and a new passion was born.

After finishing her study and becoming a 'bachelor of economy', she completely focused on music. Starting at loungecafe Scandals every saturdaynight and djcafe sol every sunday, she is now covering several clubs and parties in the Netherlands and abroad.

In 2000 she made her debut abroad, joining the ID&T Innercity tour to Israel, Eilat. She played there for 3000 people at the famous Dolphin Reef.

Her residency in www.nighttown.nl in 2000, next to Ronald Molendijk, was her big break and after that she played at parties like Wasteland, Mysteryland, Innercity, Sensation, S.O.A.P and many more.
For four years, Marcella was one of the resident DJ´s at "Nightpeople" @ Vakzuid every 3rd friday of the month

Clubnight "Sell Out"
In 2003, Marcella had her own clubnight in Amsterdam icw Club Risk called "Sell Out", every second saturday of the month in Club More Amsterdam.

Nowadays 2000-2005

SUPER
Marcella hosts her own parties called "SUPER", which take place on different locations in Holland. SUPER stands for SoulfulUrbanPopEclecticRetrosounds… and has already been visited by hundreds of partyminded people. More info about SUPER you find at "Projects" on this site.

RADIO 3FM
After hosting her own show on ID&T Radio "In 2 Dance" in 2002 and frequent clubmixes on that station she was asked to do live mixes on radio 3FM.
Every first Saturday of the month she´s live on air with "Marcella´s Massive Moments" from 21.00-22.00 hrs @ saturday´s dance program "Ministry of Beats".
www.ministryofbeats.nl

Gigs like Yorin Mega Music Dance Experience (10.000 people), Yorin Beach Event (15.000 people), openingsact on the mainstage of Dance Valley 2003 and Mojo/Extrema´s Lovefields Festival, Dance Valley mainstage 2004 are on her list.

Musicstyle
She plays music from soulfulhouse to pumping energetic real house, tribals and pumping electronic house, you never know what to expect. Well, sexy, quality house music, variety and a lot of fun and entertainment.

Press & other publicity
In november 1999 'Slam' magazine did an introducing interview with her and after that magazines like 'Cosmopolitan' and 'Aktueel' put her in the spotlights.

She joined the Dutch Television program "Geld voor je Leven", where she highlighted the clubscene and her participation in it. People could watch her preparing gigs, doing gigs and see her everyday life.

Nieuwe Revu highlighted her in their item "Uitgesproken" because of her appearance at Dutch Dimension in December 2002.
Also Strictly, BG Magazine, Discoid Italy, Amsterdams Stadsblad, Cosmopolitan, ID&T Magazine, De Volkskrant, XPRS and many internetsites did articles about and interviews with Marcella.

Avantgarde, Yes, Esquire, Marie Claire and Cosmopolitan did interviews with Marcella in 2004.

At Dance Valley 2003 media like MTV, Yorin, AT5 did interviews for radio and television.
www.mtv.nl
www.yorinfm.nl

Producing
Marcella did a grooveproject with "Orange", the guys who are responsible for the Sensation anthem in 2002.
In 2004 she recorded a track "Meet Again" with Laidback Luke for his new album, soon to be released.
In 2005, together with Tom de Neef and Miss Bunty she recorded "Chicago Vibes" which has been supported by dj´s like Roger Sanchez and Eddie Amador, Jeroenski and many others.
Also in 2005 she recorded an E.P called "Solar", together with Leo Moreno. This E.P. will be released in October 2005 (Fresh Fruit Records)

DJ Marcella played at:

National

Clubs
Amsterdam: Panama, Vakzuid, DJ Cafe SOL, Club More, Sinners, Hotel Arena, Cubic, Ministry, Amsterdam Studios, Powerzone, Kingdom
Rotterdam: Now&Wow, Pacha, De Loft, Nighttown, Prinsestheater, Calypso, Thalia Lounge, Las Palmas, Off Corso
Utrecht: Winkel Van Sinkel, Tivoli, City Hall, Filemon & Baucis, Monza
Den Haag: Atrium, Danzig, Catacomben, Cocoon
Haarlem: Stalker, Lichtfabriek
Tilburg: Vasquesz, Storm, De Twee Heeren
Almere: Anno
Hilversum: 538 I-Dance, Havana, Gooiland
Eindhoven: Mezzo, Lapaz, De Rechter
Maastricht: Nightlive
Koog a/d Zaan: Waakzaamheid
Zwolle: De Joffer, Proosdij, Roots
Noordwijk: 19th Hole, De Klikspaan, De BOB
Bergen aan Zee: Offshore
Arnhem: Manhattan, Club Level
Terschelling: De Stoep
Breda: De Massa, Oebele, Miller's Time, De Graanbeurs
Wijk aan Zee: Sunseabar

Festivals and Events
Mysteryland, Innercity, Riverdance 2002, Shagadelic, Studio 54, Impulz Outdoor, Wasteland, Pussylounge, Beachbop, Liberated, FFWD Parade Rotterdam, Integrate, Sundays @ Scheveningen, Civilization, Healers Boat, Welcome 2 the Future, Paradox, SOAP, Trance Energy, Creme Fresh, Salsa Lounge, Yorin Mega Music Dance Experience 2003, Dance Valley 2003, Yorin FM Beach Event 2003, Riverdance 2003, Lovefields 2003, Sensation VIP 2002 & 2003, Dance Valley 2004, Weezemerland Dance Festival, Fresh Farm Festival, Riverdance 2004, Summerdance Festival Aalsmeer 2004, Solar Festival 2005

International
Love Parade Berlin, Innercity tour Israel, Club Filter Turkey, Catwalk Norway, Paradiso Rimini, Sonora Blue Rimini, Club Ahoy Greece, Opium Garden Miami, Nikki Beach Miami, Space Miami, LaRocca Belgium, CDLC Barcelona Spain, Man Ray Paris.
Performances