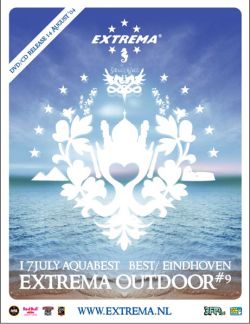 Extrema heeft de line-up van festival Extrema Outdoor bekend gemaakt. Op zaterdag 17 juli zullen er in 7 verschillende area's verschillende nationale en internationele top dj's komen draaien. Om er een paar te noemen: James Holden, Heiko Laux, Tom Middleton, Tiga, Tom Stephan en nog velen anderen. Er zijn ook nog steeds kaarten te winnen hier op GT.com!
Eindelijk is het dan zover: dé line-up van Extrema Outdoor 2004 is bekend. Zoals je van Extrema gewend bent, zit de programmering van het dance-festival weer propvol nationale, internationale en regionale dance-helden! 17 Juli wordt gewoon weer een onvergetelijke Outdoor-dag.

Extrema heeft als jaarthema 'Strange World' en Extrema Outdoor 2004 heeft aan haar 7 hoofdarea's de 7 wereldwonderen gekoppeld. Overal in het decor zul je dat terugvinden. Zo staat het waterpodium van de Future Funk in het teken van de piramides van Gizeh, is de 3FM Stage een heus Coloseum en staat de Kremlin Area in het teken van de Taj Mahal.
Pyramids of Gyzeh
(Futurefunk)
Roger Sanchez (USA)
Gene Farris (USA)
Roog
Benny Rodriguez
Tom Stephan (UK)
Tom de Neef (B)
Cleon Macnack
Host: Lex Empress
Coloseum
(3 FM)
Audio Bullys (UK)
Danny Howells (UK)
Don Diablo
Nick K
Miss Monica
René Amesz
John Doe
Rho
Victor Calderona (USA)
J.Consemulder & Chianty Noir
Host: MC Marxman
Hanging Gardens of Babylon
(Supernatural)
Svendex
Rainer Truby (Ger)
Cuica (Uk)
Porn Brothers (B)
Combo Moderna
Soulsonic
Host: Mc Jeff
Statue of Zeus
(Techno)
Marco Corola (It)
Heiko Laux (Ger)
Cari Lekebusch (Sw)
Alexander Kowalski
(live)
(Ger)
Steve Rachmad
Coming Soon
(live)
Solid Decay
(live)
Bart Skils
MBC
Host: MC Boelen
Easter Island
(Electro)
Tiga (Uk)
Geigercounting
(live)
Dexter
(live)
Dr Lektroluv (B)
U-Man
Gideon
(live)
Lady Aida
Legowelt
(live)
Petter (Sw)
Taj Mahal
(Kremlin)
Sander Kleinenberg
Nick Warren (UK)
Matthew Dekay
Luke Chable (Aus)
Remy
James Holden (UK)
16Bit Lolita's
(live)
Duran and Aytek
(live)
(Tr)
Bart van Wissen
Host: MC Stretch
Chinese Walls
(Las Palmas)
Tom Middleton (UK)
Fedde Le Grand vs Dwin
Denniz
Phats and Small (UK)
Erick E
Dove (USA)
Victor Coral
Dame
Miss Bunty/MC Nova
Foodvillage
E.S.I.T.
Superdeluxxx
Phenc
Penotties
De Gebroeders Bever
Le Qleut St Tarde
Caz
Zupa