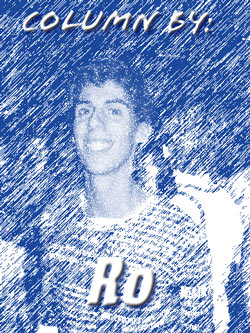 Wat niemand meer had verwacht en wat waarschijnlijk voor Bush ook kwam als onverwacht kerstcadeautje: Saddam op een dienblaadje bij het hoofdgerecht.
Legendarische en vooral heroische woorden van de overmeesterde in zijn hol in de letterlijkste betekenis van het woord hol: "I am the president of Iraq. I want to make a deal." Waarop de dappere strijders van het westen antwoordden: "Bush says hello." Volgens de laatste berichten van CNN is het gesprek hier gestokt, en aan iedereen is voorbijgegaan, dat het gesprek hier niet is gestokt. Waarom? Doe een moment je ogen dicht en stel je voor dat je in je marinepakje loopt, met gepantserde contactlezen, geautomatiseerde parachute in je helm, nightvision, 6 granaten met botoplosmiddel voor de splinters die in het rond zullen vliegen, waarvan 2 in je broekzak, 2 om je riem en 2 in je tas waar ook je slaapzakje zich bevindt alsmede een zakmes en een flesopener, niet te vergeten je Ak-47 in je ene hand en de kalashnikov (die je even daarvoor had gekocht bij de groenteboer op de hoek) in je andere hand, je rugzak met allerlei voedingsstoffen die nog meer lijken op ingeblikte en vacuumgezogen niks, en je loopt daar met je hoogst geheime team door dat donkere hol van Saddam. Je bent erop uit om mensen dood te schieten, Terminator1 en 2 en 3, Rambo 1, 2 en 3 en Predator 1 en 2 op je netvlies gebrand, een adrenaline kick van hier tot Bagdad, hartslag van 240, al drie weken slapeloze nachten omdat je vuuwerk verwacht, bodyguards met snorren, en bodyguards met nog grotere snorren, en het enige wat je tegenkomt is een ondervoede man met een grote baard die nog het meeste weg heeft van een verdwaalde Sinterklaas.
Van onbetrouwbare bronnen heb ik vernomen dat de korte dialoog niet zo kort bleek te zijn als CNN ons laat geloven, de ongecensureerde dialoog vanaf het moment Saddam de hartelijke groeten krijgt van Bush:
Onbekende Navy Seal #1: Stay down!
Saddam: No don't shoot me.
Onbekende Navy Seal #2: Do you have any weapons on you?
S.: yes.
Navy Seal #1: What kind?
S.: I don't know.
Navy Seal #2: Where is the rest?
S.: What rest?
#2: The rest of your team!
S.: There is no rest. I am the rest.
#1 (geirriteerd): I want to see the rest!
S. (verontschuldigend): I am sorry, this is it.
#2 (om zich heen kijkend): Shit, this is it.
#1 (schoppend tegen de muur): This is not funny!
S. (lacherig): Yes it is.
#1 (zichtbaar boos): No it is not funny.
S. (quasi serieus): You are right.
een stilte volgt.
Saddam krijgt Bush aan de lijn via een mobiele telefoon:
Bush: Hello?
S.: Hello?
Bush: Who is this?
S.: This is Saddam.
Bush: Aaaah Saddam. Just a minute. My autoque is not working.
stilte.
Bush: I want you to surrender yourself.
S.: I am trying to.
Bush: This is the war against terror.
S.: True.
Bush: Well then surrender.
S.: I just did.
Bush (niet snappend): What is your location?
S.: I don't know.
Bush: This is the war against terror.
stilte.
Bush: I repeat, this is the war against terror.
S. (de bal terugkaatsend): I am the president of Iraq.
Bush: No you are not. Because we are fighting terror.
S.(begint het leuk te vinden): How is your war against terror going?
Bush: It sucks.
stilte
S.: How is your wife?
Bush: Good, and yours?
S.: which one?
Bush: The one with the mustage.
S.: which one?
Bush: I am fighting the war against terror.
S. (van de situatie gebruik makend): I demand my release.
Bush (geschrokken van deze toon): I am sorry about all this. I really am, but we have elections next year and this is a good moment for me to capture you. I am sorry. Over and out…

Binnenkort zal deze situatie te zien zijn op tv met opgenomen audio van dit telefoongesprek. Tot die tijd moeten we het doen met de gegeven informatie en kan de zoektocht starten naar wie de heldhaftige daad heeft verricht en ik wens Bush een prettige verkiezing toe.
Volkslied.
Fade.