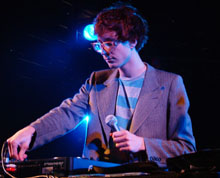 18 months ago, Kings Of Convenience singer/songwriter Erlend Oye released Quiet Is The New Loud with his bandmate Eirik Glambek Boe. This extraordinary album, a collection of gentle ballads, laced with bittersweet anecdotes and engaging harmonies, thumbed its nose at contemporary expectations and popular music. Quiet… instead expressed the musical feelings and visions of their Bergen, Norway hometown.

But Erlend is a restless soul, his youthful energy never allowing him to stand still long enough to paint himself into a corner. In fact, Erlend has become one of the unsung ambassadors of a new Norwegian scene that has emerged in recent years, immersing himself as much in contemporary dance music as he has in acoustic guitars and songcraft, corresponding regularly with like-minded spirits around the globe. It was only a question of time before he sidestepped his busy schedule with Kings Of Convenience to work on some new projects.

First he contributed vocals to the European hits "Poor Leno" and "Remind Me" on the album Melody A.M. by fellow Norwegians Royksopp, (now released in the U.S. for the first time on Astralwerks). He also recorded the Lee Hazlewood song "No Train to Stockholm" for the tribute album Total Lee! (also out on Astralwerks).

But the genesis of Erlend's solo album came about with the release of the highly successful Kings Of Convenience remix project Versus in October 2001, where his interest in electronic songwriting collaboration blossomed fully. Erlend dreamed up a concept of traveling to various parts of the world to work with a variety of underground producers on a contemporary electro-pop album.

The result is Unrest. Ten songs, ten cities, ten producers, to form an album that recalls the shimmering, electro-pop spirit of classic '80s albums while further exploring Erlend's hushed vocal delivery. Collaborators include talented American producer Morgan Geist (Metro Area) and Brooklyn's Soviet, while Europe is represented by Warp recording artist Prefuse 73 and up-and-comers Mr. Velcro Fastener, Schneider TM, Kompis, Jolly Music and more.