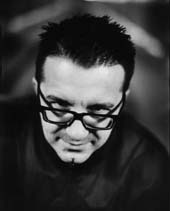 Ever since the founding of Plus 8 Records with partner Richie Hawtin in 1989 and the fame and success that came with it, John Acquaviva has been a driving force in the international music and club scene. Constantly on the move, John has notched thousands of worldwide appearances at clubs, events, conferences and festivals to a cumulative audience in the millions.

Well known for his vast record collection of over 50,000 pieces of vinyl, spanning virtually the entire length of club music history AND having played through it as well, he is acknowledged by many as a DJ's DJ. After over 20 years behind the decks full time with residencies in many of the worlds best clubs over the years, John is a major force in the DJ world setting the style and standard for music today. A DJ who does not impose his image over a club, but rather one who knows how to entertain and makes a great club even better while taking it into the future

Recent projects include the discovery and introduction of the most remarkable dj technology to ever come out…FINALSCRATCH. As well, john has done over a dozen official cd mixes throughout the world. The longest and most established of those being the Saturday to Sunday double cd series where you can hear his whole range from house to techno, with the most recent volume 4 out now!

Current key residencies include Open House [Paris], SmartBar [Chicago], Umatic [Athens], Maximes/Danzoo [Madrid] along with regular or multiple visits to many others such at U60 [Frankfurt], System [Toronto] and more.