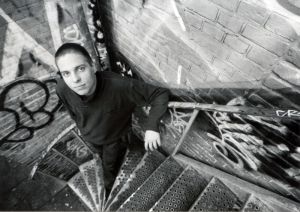 Darko's active musical career started in 1994 in a way that's not usual for most DJ's. Back in those days he played guitar in experimental noise bands, strongly influenced by groups such as SONIC YOUTH and SLINT. It was only a year later that he found himself very much attracted to let people hear all kinds of music, since he was a vinyl junkie for a far longer time. Gradually he moved on from being a band member to a dancefloor DJ. He didn't want to be limited by styles so he focused on everything with a groove and an underground mind.

PROMOTER
In late 1996 he applied for a job as a dance promoter in a local club called Simplon. In this period he learned a lot about putting on events as well as DJ-ing. Not limited by a puristic mind, the likes of JEFF MILLS, KEMISTRY & STORM, I-f, BAD COMPANY, ACID JUNKIES, PAUL DAMAGE, ANDY SMITH and ADAM FREELAND have been booked to play. Because of his expertise in the local dance area, he worked frequently as an advisor for events as EUROSONIC, NOORDERLSLAG and BEVRIJDINGSFESTIVAL.
In october 2000 he switched jobs and moved to Nijmegen to become the promoter for the legendary club Doornroosje. Their he promotes their succesfull nites Planet Rose (Techno) and Jungle Galaxy (Drum & Bass) a.o. The status of Doornroosje in the European techno scene is impeccable. The likes of DAFT PUNK, JEFF MILLS (who says Doornroosje is one of his 3 favorite clubs in the world), DAVE CLARKE and RICARDO VILLALOBOS made their Dutch debut on the Doornroosje stage.

DJ/Live
Although he has been DJ-ing since 1995, his DJ career took off in 1999, where he was asked to play in a lot of different clubs in and outside of Holland as well some major events like the LOWLANDS festival in 1999 en 2001. He was also the resident of the only northern Drum & Bass night called 'Bass Nation' for 3 years where he received guests like DECODER, BAD COMPANY, CALYX, NOS (Hidden Agenda) and JOHN B.
Since 2000 he focuses on techno, (deep)house, minimal and electro and played in well known clubs such as Moog (Barcelona), Neue Heimat (Stuttgart), Mazzo, 013, Effenaar, Throb (Leeds), House of God (Birmingham) and Aqua (Antwerp).
To broaden his horizon he started to do livesets as well since april 2004. He did some succesfull shows in Doornroosje, Paradiso and Moog (Barcelona). The liveset contains a great variation of music styles (minimal, house, techno) and reflect his DJ style perfectly.

WOLFSKUIL RECORDS
He started his own labelimprint with Ger Laning (DJ LL) in 2003, called Wolfskuil Records . On their website www.wolfskuilrecords.com you can find out all about the label.
The first 5 releases include music from Joris Voorn, Hakan Lidbo, GWP Gatzigristos, P van Dongen, Bart Thissen as well a release from Darko Esser and LL wich where well received by magazines and topartists like Groove, De-bug, Dave Clarke, Laurent Garnier, Ben Sims, Cari Lekebush and John Selway.

PRODUCER
Darko has been making music in his small homestudio since 1998 as a hobby. He didn't start producing more fanatically untill 2002. The effort paid off in releases on Fingers Ltd ('Movin' with LL), Flux Recordings from London ('Late at night' featured on the compilation 'The Adventures of..'') and off course Wolfskuil Records ('Chaos in da flesh'). The track he did on Flux was played on the John Peel show (mr. Peel even charted the track as one of his favorites of that month) and the 'Chaos in da flesh' EP was charted on number 2 in his july chart by none other then Dave Clarke.
Darko's first solo release will be released on Wolfskuil Records ('Laku Noc Jasna' (WOLF 006)) and will hit the stores in January 2005.
Next year seems to become a good year release-wise with several labels showing interest in his music….
Watch this space!
Performances