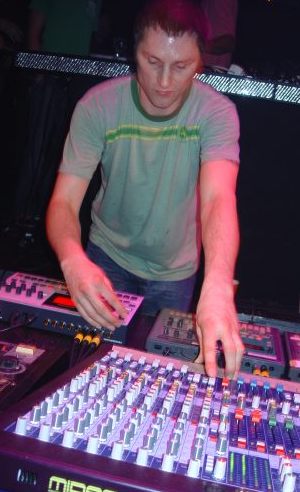 During the last couple of years new electronic communities came into being,"Communities without Unity". They create short-term alliances or even merge their everyday life methods in spite of their local and temporal separation. The actors of electronic life styles from Berlin meet the ones from Montreal and the other way around.

Everything is shared, not only the euphoria for electronic music, but also completely ordinary things- material things for example. These are like new varieties of the cosmopolite, which remain inaudible, invisible for many, because the typical images from Cosmopolitan and other lifestyle- magazines are missing. There is no Jet-Set-Deejaying, no Hotel-pool-Chillin, no eternal party, or other idle motion-producing glamour stories.
This is where the life of Sammy Dee takes place, at the crossing points of local and global methods. Since 1990, he is a DJ in Techno and House- first in Hessen, the wonderfully Americanized GI-Location of West Germany that tried to bring the Blues to dreary Germany. He then moved to Berlin and since keeps in close touch with the rising sound events, he perceives the impulses of other sound worlds and operates as a Connecting People-Mentor below the level of Nokia s company-philosophy trying to detect other signals. For example Akufen s drop-ins from the woods of Quebec, becoming strange House elegies, or the sample methods of the Minus 8 founder Richi Hawtin and: of course the permanent rhythm of his Pantytec-partner Zip. It s persistently flashing between them and Sammy Dee. Nevertheless, Sammy Dee is not using a Timex showing five different time zones simultaneously yet. For him, "Departure in Time" means doing the splits concerning the diverse scenes but without bending too much

It s striking that the social is never filtered
In those moments, he doesn t ask his audience for anything special, instead he lets the concrete space become self-identical. He proofed these various methods in numerous club nights in clubs like Tresor, Ostgut or Robert Johnson, and also on the Pantytec-Tour 1999 in the US und 2002 in Australia and Japan. Now Sammy Dee sends also his own material in addition. He is on tour in the US-Detroit (Paxahau, Richie Hawtin s Control Event,) Chicago (Empty Bottle), N.Y.(Tronic Treatment) and L.A.(Futurehouse).

A new project is crystallizing now. It differs from the Pantytec- and Perlon-Productions with its deeper Techno Influence.
Performances