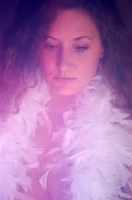 Daphne Darretta she is born in Den-Haag in the year
1980.Nowdays she is living in Hilversum.
She is a daughter of an Italian father and a Dutch mother.
She started to spin 4 years ago , but she loves electronic music from
the day she was born.
Why she spins Techno ?
Her first record what she bought was The Bells from Jeff Mills and
from that day she was addicted to Techno.
Electronic music is always on her mind and lately you can find her
also in the studio producing here own tracks. She has some Italian
blood and you can hear that in her mixing style/record choice.
Her sets are filled with minimal, tech-house and groovy techno mixed
with some offbeat.
She played at several clubs in Amsterdam AMP Studio's, Hotspot, Exit,
Maximum, Amsterdam Supporters home of Ajax, DJ cafe Tetra, Club LA,
Club JV and many more.
Not only is she a well know DJ in Holland she played in Miami @ club
bed ,Club Scassa diavola Genua Italy, and she even played @ the world
famous Love parade in Berlin.
She spinned beside Damian Keane ,Dave Miller, Kevin Saunderson ,
Derrick May, Ritzi Lee,Miss Melera and many others…!
Xena is the warrior princess of techno…..!So be prepared !
Performances