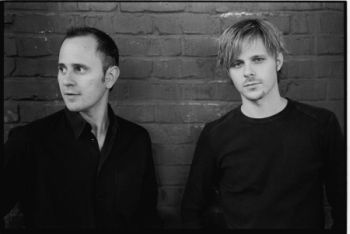 Booka Shade

Booka Shade are Walter Merziger and Arno Kammermeier, production masterminds behind the first 13 Get Physical releases. In charge of their own production company and studio for the last 15 years, they have applied their wide range of talents not only to the realm of electronic music, but also a large number of other media productions.

After two early 90s synth pop album releases and a number of live tours, they
switched their attention to club projects for established labels like R&S,
Harthouse or Tommy Boy. But it was their early incarnation of Booka Shade on illustrious Dutch label TouchÈ which hit the zeitgeist and triggered excitement and enthusiasm in clubs all across Europe.

Together with their old friends Patrik Bodmer and Philipp Jung aka M.A.N.D.Y. they decided to found their own label, and after meeting Groove publisher Thomas Koch aka DJ T. Get Physical was finally launched in early 2002 - the rest is history.

After the intense build up and promotion of label artists M.A.N.D.Y., DJ T. and Chelonis R. Jones, in 2004 it was time for Booka Shade to pursue their own solo careers again. Although they have since added two dancefloor-tailored releases (staples of famous DJ cases all over the globe) to the label catalogue, Booka Shade have decided against taking further, short-lived snapshots of the microcosm of current club music.

Instead, for their first album ÑMementoì the two producers have poured the essence of their joint musical background into contemporary moulds. Observing a healthy balance between pop appeal and experimentation they have concocted unusual blends of modern 4/4 sketches and timeless listening titles.

The 14 tracks featured here take us on a journey through time and space. In the sprawling ìMementoî universe elements from different eras and categories seem to meet and merge almost by chance. ìVertigoî, based on an obvious disco groove, is swathed in a breathtakingly beautiful, cinematic soundscape of unparalleled drama. ìDouble Identityî and ìMementoî pursue similar paths. Tricky, minimalist rhythm structures support the dense atmospheres suffused by short glimpses of Basic Channel and Detroit references as well as mysterious vocal slivers. Other passages are reminiscent of ravers attacking a Missy Elliot track with a vacuum cleaner, homages to 80s synth pop bands clashing with planet funk, broad psychedelic rock or even minimal trance, always pervaded by fragments or entire titles ostensibly lifted from fast and furious movie soundtracks.

All of this is held together by the intense moods of soundtrack aesthetics, turning ÑMementoì into an intoxicating, emotional play of the senses.

For all those vinyl lovers out there Booka Shade have an extra ace up their sleeves: The double vinyl edition of ìMementoî will feature exclusive club versions of 7 of the 14 album tracks plus an additional track not available on CD.