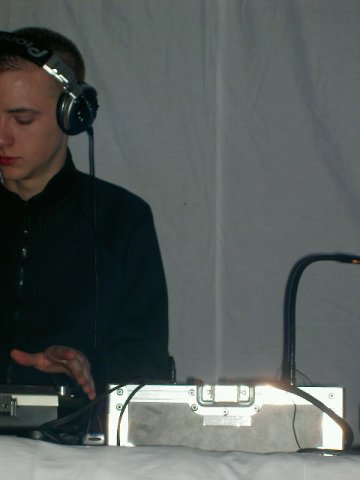 Juan van der Kleij aka Spark

Spark has been busy with electronical music since he was a little kid. Always busy with taperecorders and stuff. He started playing the turntables for real in 1999 at the age of 13. He started with playing Hardcore, but then he realized that that wasn't the sound which he was looking for. He became more and more interested in Techno/Techhouse. Inspired by Carl Cox, he turned more and more to the harder side of Techno. Nowadays he plays HardTechno also known as "SCHRANZ". His favourite DJ's are Chris Liebing, Dave Clarke and Arkus P. His favourite producers are: Glenn Wilson, Arkus P and Invexis.

In 2001 he got his first opportunity to perform in front of a live audience, this was in a club called: "the big beer" in Krimpen. After that performance he laid low for a while, until in 2002 he joined in an DJ-contest in Club "La Bateau" in Rotterdam. And he won!!! From then on it went straight up with his bookings. He's only 18 years (2004) old, but he has already performed at a lot of different parties like: Hardwaxx and Land Of The Lost.

Spark is known for his energetic style behind the wheels of steel, always laughing, jumping and exiting the crowd. He 's really a DJ who knows to make a show of his performance, watch out for this guy.. he's a killer!!!
Performances