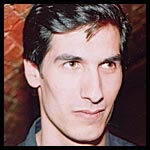 Dj Psychogene discovered the sound of house music in 1988 while listening to a local radio show. A few years later he got his turntables and started mixin'. He played at private parties were he mastered his dj skills. In 1993 there wasn't much going on in the Belgian techno scene. Noticing this, Psychogene decided to organize his own parties, NEUROLEPTIC. After 8 years of existence NEUROLEPTIC became one of the most successful party organizations in Brussels , catering for the techno lovers, each party being a long awaited event.
As a dj, Psychogene became a resident at the Network club in Brussels round 1995, where he played next to techno icons such as : The Advent, Bandulu, Electric Indigo, Sensurreal, Tom Middleton,… During that same period Psychogene was running the Network radio show along with Deg (Fuse) on Radio Crystal.
Psychogene also helped to organize huge parties in Belgium such as "The Sound Gathering" and "5 years Reload party" in Fuse where Damon Wild, Felix Da Housecat, Miss Djax and Daz Saund played. More recently he played at the Tresor label night at the Silo together with Blake Baxter, Ben Sims, Pacou and others.
In 1999 he started the Made In Brussels parties. A monthly event which became a club night since June 2000. Psychogene has played in all the major clubs of Belgium: Fuse, Food, Cherrymoon to name but a few. He also plays big events such as Kozzmozz, I Love Techno, 10 Days,…and he shared the billboard with Luke Slater, Underworld, Carl Cox, Jeff Mills, Richie Hawtin, Laurent Garnier,…He has been invited as a guest dj in France, Spain, Luxemburg and Germany (Love Parade-Nature One). One could describe his musical style as cutting edge techno breakbeat in perpetual evolution blended with an energetic mix, minimalistic bores watch out!
Psychogene is also a producer. He has released different tracks under different names :
·Activa ep (DTM Records)
·Headcleaner ep ( Re-load)
·Subject VS Jeff Mills ( Headcleaner remix)
·Critikal Freaks( Records Deluxe)
·Fonk My Bitch ( Records Deluxe)
·Sharpside "I Love Techno theme track" (News)
·Belgian Resistance ( Records Deluxe)
·Interlude ( Records Deluxe)
·Space Cruising ( Rotation Records)
Numerous tracks of Psychogene have been licensed for quality compilations such as : Ministry Of Sound (Judge Jules), Space-Ibiza mix by Carl Cox, Luke Slater DJ mix, Edel Music, I Love Techno n° 7, Unique and many more.
Performances