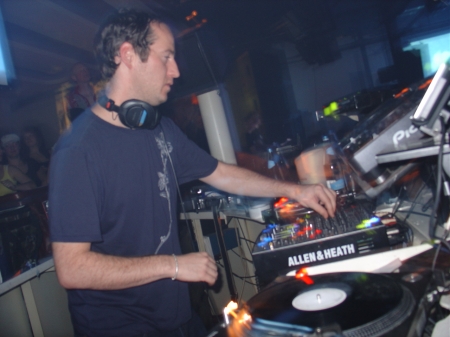 In dance music circles, Sasha's name conjures near mythological references and fond memories of unforgettable gigs at destinations around the world. What punctuates Sasha's skills as a DJ is his capacity to not only incorporate diverse genres and styles, but to transcend them by infusing his music with pure emotion. Sasha's talent is matched only by his passion, which has seen him become one of the world's true superstar DJs.

Starting out as a club DJ during the late 80s, Sasha eventually landed a residency at Shelly's in Stokes, where he began developing and honing his techniques and cultivating his emotive style, winning him a devoted following. After Shelly's, he started playing the Renaissance nights in Mansfield. Thanks to Sasha, the nights eventually blew up and further bolstered his reputation as one of the world's premier DJs. Right around this time, Sasha met John Digweed.

John too had been making a name for himself with his superb play; he and Sasha became good friends and played together at the first of John's Bedrock parties. John would eventually inherit Sasha's Renaissance residency and the two would routinely reunite, most famously at the Northern Exposure nights in Brighton (Both nights eventually brought about the vaunted Renaissance and Northern Exposure series of mix CDs). Dazzling crowds and playing to each others strengths, Sasha and John weren't just making waves in England's club scene but, as word spread, around the world. Together and separately, they have and continue to hit international locales like South America, Norway, Spain, Russia, Australia and Israel, to name but a few. And most definitely America.

Solidifying their reputations for stellar play with several successful stateside tours, Sasha and John were eventually invited to share a monthly residency at New York City's Twilo in 1996. All-night sessions before crowds of up to 2,000 people, Sasha and John's sets weren;t just awe-inspiring, but saw them and Twilo become the focal point for America's burgeoning DJ and club culture. Even with Twilo's closure last year, Sasha and John are still at the forefront of the global dance phenomenon that has swept America.

Over the years, Sasha hasn't simply been playing great music, he's been making it, too. In addition to production credits on labels like Deconstruction, Yoshitoshi and his own Excession imprint, Sasha has provided remixes for top names like the Chemical Brothers and Madonna. In 1999, he released the critically acclaimed Xpander EP, which continues to be a mainstay in DJ record boxes around the world. It also whetted appetites for his long awaited and highly anticipated full-length artist album due out this year.

Continually asked when it will be out, Sasha promises that nobody wants to see his music shared more than he. Collaborating with Sasha on the album, among others, is Holland's Junkie XL and long-time friend and cohort Charlie May, with whom Sasha worked on the aforementioned Xpander EP. Sasha assures the album will be well worth the wait, living up to the standard of excellence he prides himself upon.

Last year, in an effort to more properly devote himself toward the album's completion, Sasha cut down on his gigs abroad and holed himself up in studio. He also had the misfortune of getting into a car accident which left him with a perforated eardrum. In spite of relaxed touring and said hardship, so beloved, he still managed to snag last year's honors as Muzik Magazine's #1 DJ in the world and the number two spot right behind John Digweed's #1 ranking in DJ Magazine's annual reader's poll.

Anxious to once again hit the road, Sasha is excited about the forthcoming Delta Heavy Spring 2002 Tour with John Digweed and Jimmy Van M. Even with his successes, millions of CDs sold, prestigious residencies and critical esteem, Sasha remains incredibly humble and grateful to be in pursuit of his passion.