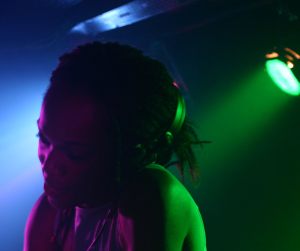 Shinedoe started performing as a dancer at an early age of 15. Inspired by her African heritage and influenced by music of the early 1980s, she performed at clubs, video-clips, and bands like Quazar and Warp, to name a few. Her mission was to translate the music through her dance movement.

After performing for 4 years as a dancer throughout Europe, she decided to stop and focus on other things such as buying electronic music records for personal use, and producing mix tapes for friends. Her music then was a mixture of US garage, Detroit techno and house. As a result of the mix tapes, her first gig happened at Club "Ja" in Amsterdam. She seriously started mixing music at the age of 19; she got her debut booking in 1995 at the VIP-club@ Paradiso in Amsterdam, where she rocked the place and became resident DJ. Also, she was offered a residency at Club Stalker in Haarlem.

Ever since 1995, she played at all the big festivals, clubs and parties in the Netherlands, from Dance Valley to Awakenings. Also promoters from abroad got interested in her DJ-sets, which resulted in bookings in various countries, such as Germany, Italy, Sweden, China, Bosnia, Israel, Slovenia, Croatia, to name but few. Parallel, from around 1997 until 2000 she played drum 'n bass under the pseudonym "Black Magic Queen." After a while she decided to focus on tech-house and techno only.

Shinedoe spins a variety of funky groove techno-sets with tech-house influences. She likes to keep her sets interesting by combining different flows. The crowd adores her because she knows how to rock the place.

In 2001 till 2004, she started her own night called "INMOTION" at clubs Paradiso and Amuse in Amsterdam, where she has been inviting quality (inter)national DJs to perform. In 2005, INMOTION moved to Amsterdam's club More, where she shared the concept and residency with Steve Rachmad.

Her debut release "Dillema/Alpha" on 100% Pure Records is played and supported around the globe by the likes of Sven Väth, Laurent Garnier, Richie Hawtin, Steve Rachmad, Ricardo Villalobos, Vince Watson, Heiko Laux, Fabrice Lig, Michel de Hey, etc.

She also runs her own label "Intacto Records," collaboration with 100% Pure owner Dylan Hermelijn. This label has been launched in September 2004.

Shinedoe played at various Dutch clubs, such as Paradiso (VIP), Mazzo, Roxy (RIP), Doornroosje, Effenaar, Stalker, Patronaat, Het Paard, Nighttown, Waakzaamheid, Tumult, Melkweg, Club Amuse (INMOTION), Atak, etc., and events like Dance valley, Lowlands festival, Awakenings (Festival), Chesterfield party, Time machine, MTC, Shockers, Forward Festival, Impulz (outdoor festival), VIP, INMOTION, Loose Club and more.

Internationally, she spinned at Tresor, Ostgut (Berlin), Love Parade (Berlin), Wohnzimmer (Kassel), Batafor (Paris), Israel (Jerusalem, Beer Sheva), Umban (Slovenia), Tuzla (Bosnia), Pergola (Italy), Warehouse (Cologne, Germany), Rathingenhof (Düsseldorf), Nature One Festival (Germany), PC69 (Bielefeld), China-Beijing (2-week tour), Technoir (Antwerp, Belgium), Metro dance (Spain), Kozzmozz (Gent) etc.

She played with DJs like Kiki, Kevin Saunderson, Richie Hawtin, Fabrice Lig, Robert Hood, Sven Väth, Jeff Mills, Joris Voorn, DJ T-1000, Adam Beyer, Monika Kruse, Surgeon, Billy Nasty, Africa Islam, Misstress Barbara, Thomas Chrome, Marco Carola, Dave Clarke, Steve Stoll, Speedy J live act, Ben Sims, Derrick May, John Thomas, Technasia, Pacou, Damon Wild, Rino Cerrone, Christian Varela, Jack Marseille, Renato Cohen, Pounding Grooves, Jay Denham, Kelli Hand, Steve Rachmad and more.
Performances