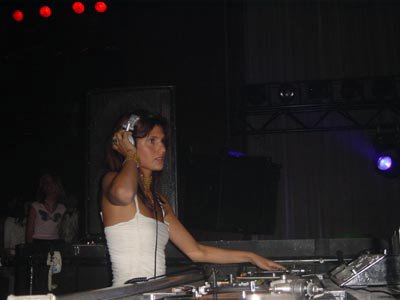 MarYSol born in Santiago, Chile (1976), moved to Amsterdam after relocating from Paris. Her main interest had been to study painting at the Ecole Beaux Arts but decided to pursue her other passion: music. After relocating from Paris where she had begun her career at FOLLIES PIGALLE, MarYSol left for Amsterdam to move forward with her choice in becoming a DJ. After various performances in clubs such as New York's TWILO (VIP), Miami's Music Winter Conference, OPIUM GARDEN (CH on-tour), London's SLEAZE; PACHA, PRIVILIGE, AMNESIA & KM5 in Ibiza; Belgium's LA ROCCA and Hamburg TAIGA BAR & RUBIN, Munchen GLAMORAMA, in Rome at MILLAENYA, Rio De Janerio's DANCE EVENT 2000, Prague MECCA, Finland's SCREEN, Jerusalem OMAN, Turkey, Greece and Egypt were added to her list of international credits.
In march 2002 she became resident DJ of one of Paris' most hottest parties: KIT KAT.

In Holland, she is one of the mainstay's at CHEMISTRY and is co-founder and collaborator for CH RUSH. Additionally in NL, she has played at Club ARENA, CLUB LOVE, HEALERS & BEADS, Rotterdam's NOW & WOW, as well as the EXTREMA, IMPULZ, NEW FRONTIERS , 4 ELEMENTS, SENSATION, DANCE VALLEY.

Her first CD entitled SOUNDS of SUMMER has gained her an additional following by the enormous press which followed its release. Recently she started producing her own tracks. MarYSol, as her name attests (sea and sun) brings to the music scene a fusion of tech-house and tribal rhythms. Her music creates a sense of happiness and a mood of inspiration along with those essential elements: beautiful vibes. Her ability to gage the desires of what the audience wants is propelling her to the status of a major player within the club scene worldwide. MarYSol continues to play abroad with a new CD to follow.