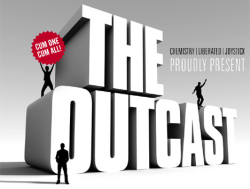 Het is alweer tijd voor de derde aflevering van The Outcast, Amsterdams lustvolle metrominded uitgaansavond. Laat je meevoeren door de bonte stoet van entertainers waaronder Lacroix, Marysol, Max Morèl en Juan Wells. Ga lekker los, verleid, daag uit en loose control. 15 april in club Marcanti Kingdom, voor de gelegenheid weer omgedoopt tot le Club Dangereux. Ondeugend zijn mag weer!
The Outcast vindt iedere 3e vrijdag van de maand plaats in de Marcanti Kingdom en is het nieuwste wapenfeit van het organisatie collectief bestaande uit Chemistry, Liberated en Joystick. De sound sluit geheel aan bij hetgeen je van de avond mag verwachten: onvervalst vet en geil, steengoede tribal house en high class electronica. Dit alles ondersteund door de vibrating voice of Juan Wells.

Voeg hier performances van fantastische performers, glam fashion en een gezonde dosis humor bij en je hebt de ingrediënten van dé hipste club avond van Amsterdam. Steekwoorden: Super Social Amphetamine, High class, gay eclectic, try sexual, innovative, straight minded, street credible, female chique, lust-on-the-brain, electronic fantastic, outcast.
Location
Kingdom
Jan van Galenstraat 6-10
Amsterdam, Nederland