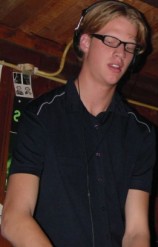 Hans Seisveld a.k.a. Dj Size

He was born on the 12th of October in 1981 in Leiden, The Netherlands.

Music is an important element in his life. He has been interested in Techno and House since 1996 and he has been spinning the wheels since 1998. In the past he played at events like: Teqnology, Footworxx label night, Legalize, etc.

Throughout the years he has developed his own style. The music he plays is Techno/Minimal/Tech-house. Nowdays he likes to combine those different styles in the mix. He playes the music he likes, but he also tries to pleasure the audience with it.

Not only turntables have impressed Hans, but also producing music. He has done a sound engineer course in Amsterdam and in the future he would like to produce more often and more seriously.

Besides playing at events he is also part of the organisation that organises the events "Keytown Madness" and "deep" in Leiden.

At the moment he's busy with a study called "Leisure Management" in Amsterdam. After this study he would like to organise different kind of events, produce more music and play records more often.

After all he's ambitious enough to develop himself to a well-known dj/producer in the Netherlands or even the whole world!