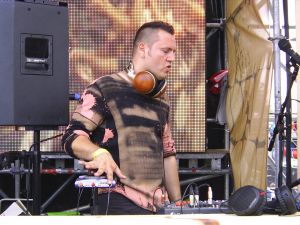 Biography John Consemulder (www.johnconsemulder.com)

So who the hell is John?
John is a just nice guy with a lot of interests. He has graduated in neuropsychology and has a passionate interest in the human brain, parapsychology and most important: electronic dance music (especially techno, tech-house, house and deep house, up to 50 releases so far…..). He loves everything which is pure and esthetic (art, music, nature, music and women). He spend weekdays in his own studio and he spends his weekends backstage clubbing (he likes to sit .
How did John become a respected producer and what's next?
With the income he got out of the first records he bought his first rare analogue synths. After a while he started releasing records on his own and started collaborating with others on all kind of labels like Flower Grooves, Rough Cuts, Warner Music, United Recordings, Wildlife (Tiesto's Black Hole Recordings), Playground, Basic Beat, Essential Dance Music and many more.
But his breakthrough was a release on the internationally famous Soma label as Frame. He also became A&R manager of the internationally acclaimed X-Trax label. While doing that for two years he produced and released records on X-Trax as Vintage, Index, Detour and JohnJohn.
During that time his records got played and he got cool reviews from dj's and artists like Slam, Michel de Hey, Carl Cox, Laurent Garnier, Jeff Mills, Ken Ishii, Eric de Man, dj Estroe, Steve Rachmad, Adam Beyer, Joel Mull, Cari Lekebusch, John Aquaviva, dj Marcello, dj Remy, dj Marysol, dj Richard, dj Benny Rodriquez, Speedy J, Thomas Schumacher, Mistress Barbara, Sillicone Soul, Envoy, Funk d,Void, Billy Nasty, Tresor dj's, Stanny Franssen, Derrick May, Mike Grant, dj T-1000 (Allan Oldham), dj C1, Jamie Anderson, Layo and Bushwacka, Sven Vaeth, Pascal F.E.O.S., Miss Yetti, Dr. Otte and many more. His name got known at a wider scale, especially after his Frame release on Glasgow's Soma Quality Recordings and his records as Vintage, Detour, JohnJohn and Index on X-Trax. (www.x-trax.nl)

Lately John is mainly doing projects and planning an artist album with a highly talented and diverse singer called Chianty Noir and this collaboration (they also perform live at various large events) sounds more groove oriented and clubby, but sometimes also deep and moody . John also has his own publishing and handles all bookings and management of mc Chianty Noir, as well as his own and their live appearances!
John and Chianty Noir are also responsible for partyorganisation Extrema's(www.extrema.nl) annual theme song 2004; Strange World (remixes with Eric de Man and a videoclip are in the making..) which will be released at Extrema Records March 2004.

An Italian friend called Andrew B has started a collaboration with John after he did a remix for John's track which will be out soon at Mike Grant's detroit based label End to End, which also harbours artists like Mike Grant himself, Scan 7, Keith Tucker and more.
John is also doing projects with his friends dj Estroe , Detour (previous release on X-Trax and an album full of techno trax is sill free to sign) dj Eric de Man, dj Benny Rodriquez , Joris Voorn and dj Shiva and their material will be released soon.

What are John's latest releases?
Look at the news section of his website for his upcoming releases as John Consemulder on Ben Sim's Native output and on Mike Grant's Moods and Grooves (with singer Lex Empress, also remixed by highly respected Detroit producer Alton Miller!) and End to End labels (his 'Ghost' ep is in the playlistst of Laurent Garnier, Michel de Hey, Jack de Marseille, Dave Clarke and many more..)…and a release on dj Michel the Hey's EC records (Detour: tension ep) is out now and is allready at nr 3 in the playlist of Carl Cox and also played by players like Josh Wink, Marco Carola, Christian Smith, Misstress Barbara and more and is also licensed to the Impulz cd and the Trust the Dj compilations!
Also check out the discography section for info about all other releases (more than fifty releases in the meanwhile) on www.johnconsemulder.com .

Peace!

Discography:
1. Music for lovers: M.U.S.I.C. (Club'b 1001- XSV Music)

2. Genetic Design: Glowing sounds of darkness-Orion (ME 010-5- XSV Music)

3. Groove Society: It doesn't matter (Club'b 1004- XSV Music)

4. Music for lovers: So Special (Club,b 1005- XSV Music)

5. Genetic Design: Sirens (ME 012-5- XSV Music)

6. Vertical Vibes: Endorphins (4th Groove 004- Twist Records)

7. Push to flush: Then you'll be it (Profile 001- XSV Music)

8. 20 % x-tra free: Work that body/ It,s mine (Basic Beat 2405- Basic Beat Records)

9. Groove Society: Into the deep (Flower Grooves 001-5- XSV Music)

10. Oshawa: Take over (Flower Grooves 002-5- XSV Music)

11. Groove Society: Rumble (Flower Grooves 003-5- XSV Music)

12. Groove Society: The Comeback (Flower Grooves 006-5- XSV Music)

13. Copy-Cutters: Switch (Flower Grooves 008-5- XSV Music)

14. Probe: The Drive (Electoxic Records 002-5- XSV Music)

15. Doyle & Munro: The Arousal (Ozone Records 005-5- XSV Music)

16. Pitch-Black: Gear (Rough Cuts 9706- Vernoth Music)

17. Party 'n Co: Destiny (Playground Productions 504)

18. Direct Drive: Grind (KK Records KKT 015)

19. Direct Drive: Semtex (KK Records KKT 016)

20. JohnJohn: Blue Event (NL Recordings 705)

21. SunTan: Umeda (Big Time International- 21st Century label)

22. Digital Pimp: Funky Sound (Big Time International- 21st Century label)

23. Passion Inc: My Life (Warner Music Benelux, Frenetic label)

24. Swift Movers: Sonic Regret/Glide (Black Hole Recordings-WildLife label)

25. Swift Movers: People come Together + remix by Jaimy and Kenny D. (BlackHole Rec- WildLife)

26. JohnJohn: Existence (dj Tiesto's BlackHole Records- WildLife label)

27. Vintage: Switchboard (X-Trax 032-Midtown Records.).

28. NightMan: Groove Scale 1/ Organic Moves (Roadrunner Arcade- Clubstitute label)


Releases 2001/ 2002/2003 and upcoming material JOHN CONSEMULDER (more than 50 releases so far on international labels like Soma, X-Trax, Ben Sims' Native, Mike Grant's Detroit based End to End and Moods and Grooves label and many more)


· New release out now!!! at Michel de Hey;s internationally well known EC Records: John Consemulder feat Axl Mori present Detour: Tension ep (with a remix by Andrew B ), allready licensed to UDC for their famouz Impulz compilation cd and also on Trust the dj compilation! Also in the playlist of Carl Cox (nr 3 in his list), Josh Wink, Marco Carola, Misstress Barbara, Christian Smith, dj Marcello, dj Benny Rodriquez and many more…

· also soon a release as John Consemulder feat. Lex Empress; playback to start (i wonder) ep on Mike Grantsfamous Moods and Grooves label (Detroit!) with a great remix by Piranha Head. Another remix ep of the same track will be released later…. Check www.big50entertainment.com

· Out soon; huge 2004 anthem for party organisation Extrema (www.extrema.nl) produced by John Consemulder. John has performed some remixes as well with dj Eric de Man and this Extrema theme song 2004;'Strange World' will be released in april, accompanied with a videoclip and huge radio and tv promotion and a tour with vocalist Chianty Noir. Check www.johnconsemulder.com for latest info!

· New release out late 2003: John Consemulder feat. Backdraft: Debris/Ghost ep at Mike Grant's Detroit based End to End label (which features other artists as Mike Grant, Keith Tucker, Scan 7 and Marty Bonds) www.big50entertainment.com

· Soon also a track called Shades and Shapes as John Consemulder feat. Dj Estroe on Ben
Sims Native Sampler 007 and a forthcoming compilation.

· Oktober 2002: John Consemulder : Meta ep on dutch KeyNote records, allready in the list of Laurent Garnier and others and played by Garnier, Michel de Hey, Benny Rodriquez, Eric de Man, and other players

· June 2002: Vintage: Torso ep with slamming remix by Misstress Barbara (www.relentlessmusic.com) and Backdraft


· June 2002: Convergence: Conversion ep at YMCK label (Essential Dance Music)


· March 2002: ConMen: Deceit ep on Hologram Records (with dj Eric de Man!) well received by a lot of dj;s like Jamie Anderson


· February 2002: Unit: Velocity Indication (Hologram Records; Edel Benelux) played by Laurent Garnier and Funk d,Void and other players.


· September 2001: Vintage ep title 'Levitation', including BangBox remix on X-Trax Sub 021


· June 2001: Index ep title 'Vortex' on X-Trax 036, incl. Vintage remake. Played by Jeff Mills, Ken Ishii


· 26 March 2001: Sonic Bang feat. Lex Empress ep title 'Somatic' on Tremolo Records-Purple Eye Entertainment (including remix by Robin Albers).


· 12 March 2001: Contrast featuring Lex Empress title 'Natural Incident' at United (including remix by Jamez).


· Late 2000: Frame ep title: 'Fase 2' on SOMA Records (SOMA 103) , www.somarecords.com, click on Frame. Well received by Slam, Josh Wink, Adam Beyer, Sven Vaeth, Joel Mull, Joanna Massive, XLR8R, Bugged Out, Cari Lekebusch, Timo Maas and more…See MUZIK magazine

· 30 oktober 2000: Mambo Warriors vs. JohnJohn at X-Trax Sub records. Played by Laurent Garnier, Bushwacka!, Slam, Ken Ishi, Adam Beyer, Michel de Hey, Erik de Man, Omid Nourizadeh, Steve Rachmad and others!!!
Performances