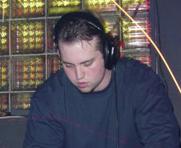 Brian Kage (Pronounced Ka-ghei), is a deep tech-house Producer/DJ from Detroit. Deep, mellow, funky, driving, and passionate are all words that describe the sound of Kage.

Growing up, Kage was influenced by rock groups & hip-hop artists such as The Police, The Smashing Pumpkins, Radiohead, DJ Shadow, Q-Bert, & UNKLE. The group that played the most influential role in his love of electronic music was Underworld, "I just remember staying up all night listening to the Pearls Girl LP on loop. Every track on that CD was moving. I finally knew what I was meant to do with my life."

At the age of 15, Kage began to experiment with sequencers and musical software like Rebirth-338 for his Apple Macintosh. Without any formal music training, Kage taught himself how to use each piece of gear to generate the sounds he wanted to hear in a production.

In 2002, Kage signed his first release to Adam Jay's Azure record label. Looking for more creative output, him & Ryan Sadorus (a.k.a. Ryski) created a new label based in Detroit called Berettamusic. In 2003, they released their first various artist EP on the Beretta label. Berettamusic has become a successful new label in a sea of tech-house labels trying to stay afloat. In 2005, Kage and the rest of the Berettamusic Agents will further their creative output with the minimal sub-label simply titled, "Beretta Grey." Kage has also released and remixed music for the brilliant French label Lumina, and the popular net-label Thinner.

DJ-ing is also a very passionate past-time of Kage. He has notable appearances across the North America, including Duotone in LA, Tronic Treatment in NYC, & the Movement Festival in Detroit. His skills behind the decks are highly regarded, and his mixes combine the funkyness and soul you'd expect from a Detroit artist.

With a positive attitude, and lots of new music and ideas to share, Kage is destined to become a major player in the electronic dance music community.