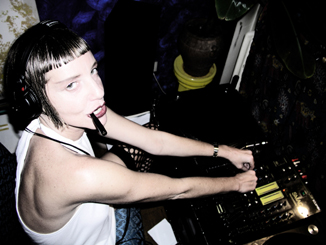 Cio was moved by dance and percussion instruments already before her first ovulation. The first step into the public was at age seventeen, playing congas in a one woman and seven men jazz band. Electronic music - the likes of Brian Eno and David Byrne - inspired her for her self-choreographed dance performance, wrapped up in new and experimental sounds form various styles.

Her love for music intensified - not a single day without sound! She spent endless days mixing tapes and CDs requested by friends, models and choreographers. Offers to deejay in trend bars came up, leading to Cio to be heard in various parties and clubs.

Cio's ambitions rose and ideas for tracks originated. Creating sound, adapting from their environment and finally recording them fascinated her completely. She sampled virtually everything, everywhere. Equipped with an sampler and mini discs, she travelled the Sinai desert - experiments and technology.

More time passed. First short pieces for the Internet and starters for mixed CDs appeared. The samplers imitations were forseeable, so Cio went on to producing vtechno tracks with fellow sound engineers in various studios. Her musical images are infinite, an designated own studio is on its way.

She is inspired by everything and nothing. The desert, colourful diving, nature, architecture, art, and playing with words. Movement is the force that drives her. And friends. And most important: Bringing you into her own worl of sound.