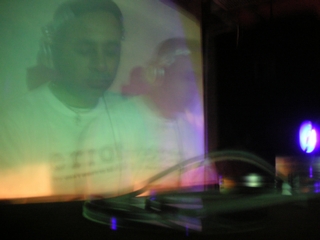 Bob (Rogue) Akber aka The Replicant was born in 1975 in Manhasset, New York, and grew up in Old Bridge, New Jersey. Starting with his family
he has always managed to be in the right place at the right time in regards to musical influences. His father's music collection included Giorgio Moroder, Santana, and Cerrone to name a few and his mother's collection of pakistani and arabic music were enought to keep his ears busy growing up. His sister and older cousins exposed him to synth pop and house music. When his classmates were listening to Tiffany and Debbie Gibson, Bob was spending Saturday night's listening to The Saturday Night Dance Party, an electronic dance mix show broadcasted live from clubs on New York's Hot 103.5FM (Now the infamous Hip Hop Station, Hot 97). This peaked his interest of mixed music.

1987 brought Bob to Baltimore and his love of electronic music brought him into industrial, new age, and techno sounds. That era in Baltimore nurtured his musical interests by way of Towson University's radio station, the now dead WCVT. In 1993, Bob finished High School and went to University of Maryland in College Park, just outside of Washington, DC, where he decided to get into radio himself and also where he met Gil Yaker of similar interests. Bob's regular Friday show, The Battery managed to pick up worldwide interest by way of internet and ran for 5 years bringing guests such as Frankie Bones and local favorite, Scott Henry.

After graduation, Bob worked as a stock broker and realized he was working too hard and too long to work on his music passion, and although he met his Metrotechno associates, he realized his sound was not nurtured in the DC/Baltimore area, so he packed his bags, moved to Tokyo, and now teaches English. His new job allows him plenty of time to finish his own music.