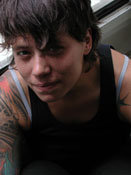 Don't tell her that she's the priestess of minimal techno, or that her example has paved the way for the wave of French female DJ's, you may well exasperate her. Jennifer Cardini is too natural and sincere to appreciate these compliments of caricature. She's a musical aficionado for whom only one thing counts: playing the right track at the right time. And like all the greats she knows how to enhance the meaning of records with those which have the come before and those to follow.
She's been imposing her tomboy style behind the European decks for over ten years now. Originally from the south of France, she witnessed the birth of techno in France. She lived the first raves intensely, at a time when with one photocopied flyer you could travel tens of kilometres to hear Jeff Mills or Laurent Garnier. She soon tried the decks out for herself one memorable night in Nice in 1994. Detroit was the mecca of the era and Jennifer's deep atmospheres and refined melodic textures distinguished her sound even then. Like all deejays she's known the downside of unpaid gigs and nights spent 'on some unknown train station's bench'. But during those ecstatic and chaotic rave years she learnt how to take a reputable but undansable record and get everyone dancing… She met Miss Kittin and Sex Toy with whom she started producing and launched the Pussy Killers duo, with their brand of avant-garde electro-punk. This is the blueprint for the band of girls of the Pulp club, Fany, Chloe… who were to breathe new life into Parisian clubbing at the end of the 90's.
By 1998, Jennifer Cardini was living in Paris and became resident deejay at the Automatik parties at the Rex club. She plays there monthly whilst honouring her other residencies at the Pulp (Lust, sucessor to the Underpressure parties of 2002/2004), the Nouveau Casino (Correspondant) and the Nitsa in Barcelona. It's at around this time that she connects to the new German sound, being one of the first deejays to play this melancholy, sexy, stripped-down elegance over French dancefloor sounds marked by deep house and French-touch disco. With these ever-sensual mixes she supports the labels Sender, Kompakt, Klang or B. Pitch Control, when they were just starting out. To follow are Closer Music, Ellen Allien, Superpitcher and so many more new producers of the Cologne new-wave, Berlin and Frankfurt, without forgetting the techno of The Hacker, the new-wave of Siouxsie & the Banshees and Joy Division, Serge Gainsbourg's pop and the late Elliott Smith.
Performances