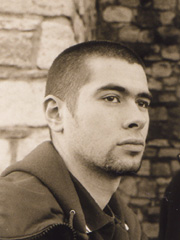 Theodor Zox age 28, was born and raised in Copenhagen Denmark, where he lives and works as a graphic designer. His love for music starts at a very early age, when his father a disc jockey of the 70's exposes him to jazz, funk, disco, dub and Kraftwerk. Buys his first computer and keyboard in 94 and immediately starts working on his first musical experiments. Inspired by what he heard as a child, the first tracks were melodic ambient pieces. Later in 95 he attends the first d'n'b rave ever in Copenhagen, fuelled by the sounds of nervous breakbeats and deep basslines he starts experimenting with these same elements in his own music only in a more dreamy and laid back way.

Later that year he hears Basic Channel and Detroit minimalism on a local radio station for the first time, music wise he has now found his true calling, and dedicates most of his music making time in finding out what makes this music tick. Meanwhile he is still active in the d'n'b scene and continues producing his own technoid version of the style, plays his first live performance on the Island of Samsø in 1996.

Being a very discreet and perfectionist person, he spends all his spare time learning about and writing music for him self, and his close friends. Easily working for months on one peace of music, fully aware that the particular track will never get further exposure, because he seldom was fully satisfied with the results. From 1998 - 2002 he has lost all interest in exposing his music to other people, he now spends all his time exploring and learning new tools and techniques. In late 2002 with the birth of his son he finds new inspiration in music, this is the start of the most productive period so far, he starts sending demos of his new material to friends and labels alike.

Musicwise he has now settled in the deeper end of techno & house minimalism, where harmony, texture and propulsive rhythm are the most important ingredients.