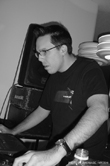 Dennis DeSantis was born in 1973 in Warren, Michigan to parents who were semi-professional musicians with diverse and eclectic listening tastes. Every day, the music in the house would span from Beethoven to Joni Mitchell, Stravinsky to King Crimson. Dennis's early forays into active music-making involved chewing on the piano bench. Somewhat later, after a series of unpleasant piano lessons and a failed venture into playing the horn, he began to focus on percussion and electronics.

At around the same time (somewhere in the early 1980's), Dennis met and became friends with Andy Crosby (who now produces amazing electro under the name Spesimen, with several releases on his own Infocalypse label and a 12" on the Dutch label Amici Curiae.) Together, the two of them began earnestly exploring the rapidly growing world of electronic music, with a particular focus on such artists as Tangerine Dream and Kraftwerk. Eventually, Andy and Dennis ended up at different high schools and, inevitably, their musical interests began to diverge. Andy wisely followed the development of electronic music right back home to Detroit, while Dennis somehow missed the history that was being made around him, instead moving toward Euro/synthpop (New Order, Depeche Mode) early Industrial (Front 242), experimental music (Negativland), classical and jazz. He kicks himself daily for not noticing the incredible music being made in his own backyard.

While in high school, Dennis began to focus more seriously on composition. From 1989 to 1991 he composed, programmed, and played keyboards for an experimental jazz trio, and it was during this time that he began to discover just how much fun sequencers could be. In addition to his work with the trio, this early sequencer work evolved into a unique fusion of Tangerine Dream-esque ostinato patterns and groove-oriented jazz.

After graduation, Dennis attended Western Michigan University, where he majored in composition and music theory with an additional emphasis on percussion. It was here that he shifted his focus to writing for acoustic instruments - electronic music would take a backseat for the next several years. His listening interests expanded to include the Classical repertoire (particularly that of the Twentieth Century), non-Western music, and even more jazz, funk, soul, and R&B. In 1992 he became the drummer for the Kalamazoo band Knee Deep Shag, where he remained until 1995. That experience (as well as the fact that he was living in a house with four other percussionists) contributed greatly to his concept of rhythm and groove. Both situations however, were probably not so beneficial to the longevity of his hearing.

In 1997 Dennis headed for the East Coast to pursue a Master's degree in composition at Yale University. Percussion was now in the back seat next to electronic music, and for the next two years his writing was almost exclusively for small chamber ensembles. Yale also gave Dennis his first real teaching opportunity, as an assistant for an undergraduate survey course in the history of popular music. While these years were compositionally productive, Dennis missed both performing and being in an environment where jazz and popular music were taken seriously. With the free time afforded by not playing drums (combined with the unexpectedly lax academic requirements), Dennis found himself with copious amounts of free time between 1997 and 1999. Some of this time was spent forming a new music production organization known as the Minimum Security Composers Collective with three Yale classmates. The rest of it was spent going back and discovering what had really been happening with electronic music in Detroit all those years. These discoveries led to more discoveries, and before too long Dennis found himself enmeshed in the beautiful electronic funk of Hawtin, Chain Reaction, and the like. He began, slowly, to make electronic music again.

After completing his degree in 1999, Dennis moved to Rochester, New York, where he entered the doctoral program in composition at the Eastman School of Music with an assistantship teaching electronic music. This job, combined with his rekindled interest in composing for computers, required that he remain up-to-date with the current developments in electronic music technology, and he used this knowledge to help himself design a home studio that was optimized for his working methods. Eastman also brought Dennis back to an environment with a vibrant jazz community, and before too long he was performing again, both as a percussionist in contemporary music concerts and as a drummer with funk and hip-hop groups. By 2001 he was performing regularly with (and serving on the administrative board of) Ossia, the student-run new music organization at Eastman. He also serves as a performer and administrator with the group Alarm Will Sound, with whom he has recorded the music of Steve Reich for Nonesuch and Cantaloupe Records.

Meanwhile, by the spring of 2001, Dennis had produced enough finished techno to feel comfortable about letting it be heard. Almost immediately after circulating some of these tracks online, he began receiving offers from DJs and independent labels. Inspired by the interest, he mailed a handful of proper demos, and by the end of the summer had received offers from labels on both sides of the Atlantic. He eventually signed with the Kanzleramt sub-label k2o, who released his debut 12" "Deviant" in January of 2002. Selling out almost immediately, "Deviant" garnered rave reviews from De-Bug and Groove and has appeared in the sets of such luminaries as Dan Bell and Laurent Garnier. Other releases in 2002 included the "Promotion of Vice" 12" in April, two tracks on the k2o sampler CD in May, a split 12" with Tom Churchill on Headspace in September (which was charted by the likes of John Tejada and Fabrice Lig and was named a "Sureplayer" by England's DJ magazine), a remix for Alexander Kowalski and the double-vinyl/CD release "Reasons" with Alex and Diego Hostettler in October (both on Kanzleramt.) Dennis's debut album "Clock Wise" was released on k2o in June and quickly became one of the label's top-selling albums.

In the summer of 2003, Dennis moved with his wife Alison to Berlin, where he maintains an active international performance and production schedule and works as a sound designer for Native Instruments.