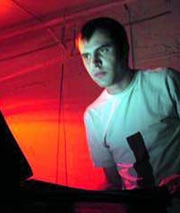 Mikael is working on a few different release for the 2005. First out he and fellow Johan Skugge are teamed up again for a bunch of releases for our friends at Onitor - it starts with Ängel EP in the end of February, which will be followed with Humla CD in April and finaly Gräns EP in May – (busy).

Also our new "supergroup" Bulgur Brothers, concisting of Mikael, Johan Skugge and Andreas Tilliander will finally be available on vinyl. Unfortunatly not until the fall though. DSP (Italy) are releasing Jaffa EP, with three minimal, freaky and funky clubtracks.

Mikael is also finishing his new very minimal and organic Ep for mitek, due for release in mid April. A deep wax for the edgy danceflooors. A new full length album will also see the light after the summer, not yet clear on which label though, as well as a bunch of EP's and compilations on a wide variety of labels.

Stavöstrand, the founder of Mitek, has been featured as a key figure of the Swedish electronic music scene for his unique interpretations of club techno as well as for producing some of the most essential experimental electronic music of the past year. Over the past years has he performed in North America, Europe and Japan.

Stavöstrand mixes deconstructed sounds with funky little beats to create minimal dance textures. On his debut album on Force Inc., "Reduce", swarms of glitches, crackles and skips infiltrate the 4/4 drive formula of minimal techno. As Vita, his "Vita" 12" on Force Inc. imprint Force Labs was to meet critical praise and became one of the best selling releases with its digitalized organic groove.