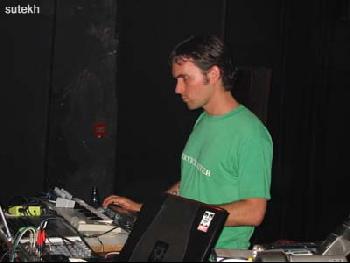 1973. Sutekh is born Seth Joshua Horvitz in Los Angeles, California.

1983. Seth's first obsession with music occurs, as he discovers the graffiti/breakdancing subculture that permeates his Venice Beach neighborhood. Armed with fat laces, fat markers, a boombox, and an old piece of linoleum, he stakes his territory on the Venice boardwalk, blasting tracks by UTFO, Run-DMC, and Egyptian Lover, and attempting to impress passersby with his skills.

1984. Realizing that he doesn't actually have the skills, Seth ditches the breakdance scene, turning his obsession to all things Prince: Apollonia, Vanity, Sheila E, The Time, and the Artist himself. Utilizing holiday gift opportunities and a pitiful weekly allowance, he buys every related record and cassette he can find. He begs his mother to take him to see the R-rated Purple Rain.

1985-6. Seth transfers to Catholic school and discards his no longer cool (or wholesome) infatuation with Prince. He turns to basketball. Following a successful season on the 8th grade team, he is awarded the "Most Improved Player" trophy.

1987. After an embarrassing pre-season tryout, Seth is cut from the 9th grade team. Once again, he turns to music.

1988-9. With few friends and little interest in extra-curricular activities, Seth focuses on his schoolwork. He becomes obsessed with introverted synth-pop/new-wave bands like Depeche Mode, Joy Division, and the Cure.

1990. Seth makes friends with the 'bad kids'- the punks, goths, and headbangers who hang out after school and smoke cigarettes. They accept him in spite of his studious disposition. He shaves the sides of his head, dyes his hair, and discovers a whole new world of underground music: Minor Threat, Crass, Nurse With Wound, Diamanda Galas, and countless others. He buys a cheap guitar and unsuccessfully attempts to teach himself to play.

1991. Seth graduates from high school and goes off to study Cognitive Science at the University of California, Berkeley. The rave scene hits the Bay Area, and Seth gets swept up in the excitement. He enters the universe of public radio and broadcasts from the campus station a weekly show that intersects techno with experimantal/noise, dub, hip-hop, free jazz, avant-classical, and indigenous world music.

1992. Using his college loan money, Seth purchases his first computer and synthesizer and tries to teach himself to make music.

1993. Using more of his college loan money, Seth purchases his first pair of turntables and begins collecting records by electronic artists such as Aphex Twin and Underground Resistance. He finds mixing records much easier than making music. He sells his computer and synthesizer.

1994-5. Seth leaves the US and his (slightly) budding DJ career. He spends one year at the University of Delhi, India, studying Eastern Art and Religion, Hindi, and tabla.

1996. Back in the USA, Seth graduates from UC Berkeley, but keeps his part-time university job. He moves to Oakland and partners with Darin Marshall, the founder of the Belief Systems label. With enough money saved to buy a used Macintosh computer and a sampler, he begins to make music in a more serious and disciplined fashion. After discovering that the name "DJ Seth" is already taken by a local San Francisco-area DJ, he adopts the name Sutekh, an Egyptian variant of his name.

1997. Sutekh's first track is released on the Belief Systems compilation "Swivel" (BS003). Remaining in Oakland, he moves in with Minneapolis transplant Matthew Curry (soon to become "Safety Scissors"). He gets suckered into full-time employment at a massive telecommunications company. When not confined to his cubicle, he continues to broadcast his weekly radio show and spins more frequently at local parties and clubs. Static, an obscure weekly party, invites him to be a resident DJ.

1998. Static slowly burgeons as a legendary outlet for eclectic/experimental electronic music from local and international talent. Sutekh meets up with local emerging artists Twerk and Kit Clayton. Sutekh co-produces the 2xLP "Deadpan Escapement" with Twerk and begins collaborating with Kit and his label Cytrax.

1999. Sutekh quits his job in the cubicle and focuses on music full-time. He starts his own record label, Context, teaches himself graphic design, and masters the board game, Scrabble. Near the end of the year, Sutekh, Safety Scissors, Kit Clayton, and DJ Jasper make their first trip to Germany, garnering interest from numerous record labels with their fresh, experimental approach to techno production.

2000. Upon return, Sutekh locks himself in his basement studio and produces music for German labels Force Inc., Mille Plateaux, Source, and Background. After several months of seclusion, he buys a laptop and begins performing around the world. He is unwittingly assimilated into a new movement called "Laptop Techno." Near the conclusion of his second tour, en route from St. Petersburg to Helsinki, Sutekh is targeted by Russian customs officials. They drag him off the train and confiscate all his tour earnings (except for coins). He barely makes it out of the country.

2001. Sutekh packs the Context operations into a medium-sized carboard box and moves across the Bay from Oakland to San Francisco.