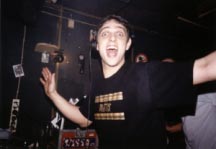 Daniel is the resident DJ at Neue Heimat @ Club Prag, Stuttgart, Germany, and also runs the Neue Heimat record label along with the Mutter record label (With Frank Yentner). He also runs one of the biggest record stores in Stuttgart -Humpty-Stuttgart, and is one of the most respected artists on the European techno scene.

Born to Spanish parents he grew up in Germany, absorbing the sounds of the electronic music scene. He has made his mark productions wise with releases on the Neue Heimat and Mutter labels, but especially with his remix of Subhead 10, released at the end of last year which became an anthem at various underground techno events around Nottingham including Pneumatic and Pure Filth.

Daniel has only played in the UK 4 times before, twice at Test, Glasgow; The Pillbox, Edinburgh; and finally at the Infamous home of the Surgeon, House Of God in Birmingham. A regular guest at Tresor in Berlin he has played alongside the likes of Adam Beyer, Cari Lekebuch, Fumiya Tanaka, Subhead, Cristian Vogel, Neil Landstrumm and Tobias Schmidt. His sound is a refreshing break from the majority of monotone techno loops, incorporating more of a bleep and bassline style, guaranteed to rock the dancefloor without resorting to the obvious. Playing for the first time in Nottingham, this is an exclusive artist for an exclusive night.