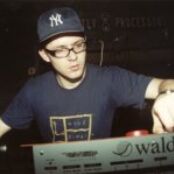 Marcin Czubala began adventure with music in 1987.
Between 1991-1994 performed over 300 classical music concerts featuring big events such as "Nantes Festival" (France), "Warsaw Autumn" (Poland), "Singapore International festival" (Singapore) and performances with experimantal music legend Krzysztof Penderecki in 1992.

In 1995 graduated Kurczewski's music school in Poznan and begun his DJ/Producer career going on a long way to support polish independent techno scene.

Year 1999 was another significant period when first polish techno label Currently Processing was founded. The label is distributed worldwide and among people recording for Currently Processing are Dave Tarrida, Subhead, Ibrahim Alfa, Bill Youngman, Q-ic&Stephenson and others.

In 1999 Marcin's debiutant EP appeared, which started his international career on techno scene. The Bass Casualties EP received excellent reviews in the biggest magazines all over the world. Soon he got many proposals from foreign labels.

In 2005 Marcin has opened new imprint at Elp Medien named "Carabinieri records" to showcase deep techno and Detroit inspired electro. His tracks has been charted by Laurent Garnier, Andrew Weatherall, CJ Bolland, Marco Zaffarano, Cristian Vogel, Dave Tarrida, Adam X, Frank Lorber, Electric Indigo and many others.

Recently he has recorded for: Currently Processing, Mutter, Neue Heimat, Automatic, Input-Output, F-line, ANLX and performed in the clubs such as Maniac Love (Tokyo), Stammheim (Kassel), Tresor (Berlin), Prag (Stuttgart), Achtermai (Chemnitz), 10/40 (Leipzig), Rex (Paris), Paradox (Prague), Symetric (Pilsen), Glasgow School of Art (Glasgow), Alaska (Glasgow), Pressure Point (Brighton), Le Golf (Switzerland), Privilege (Switzerland), Mont-Terri Project (Switzerland), Doornroosje (Netherland), Veronica Boat (Belgium), Liquid (Malta Islands), Vault (Lithuania), Aura (Latvia) and many others.