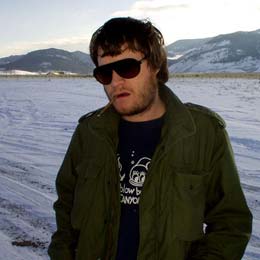 Although Kenneth James Gibson has been officiating under a vast array of monikers, including Dub Loner, Premature Wig and Reverse Commuter, and has released music on labels as diverse as Phthalo, Tigerbeat6, Orthlorng Musork, Orac or City Slang, it is as Eight Frozen Modules that he is best known. Combining elements of electro, ambient, dub, dancehall and DSP into tight compositions, his work is often reminiscent of that of Aphex Twin, µ-ziq or Venetian Snares. Yet, in just a handful of albums and countless EPs, he has confidently imposed his personality and touch. With two albums released almost simultaneously, one as Eight Frozen Modules and the other, recorded with Ian Read as Electronic Music Composer, and two other waiting to be released, it is fair to say that Gibson will be rather ubiquitous this year.

Released on G25 Productions, Crushing & Responding is Gibson's fifth full length as Eight Frozen Module, and is also his most complex and mature to date. Kicking off in abstract, post-modern mode with Corteme, a piece rooted in experimental electronica and electro-acoustic on which Gibson toys with atonal structures and interferences, the album then veers into intricate beat processing with the following track, Your Novelistic Career, injecting random elements of dub, dancehall and acid to ornate his sliced-up rhythmic patterns. As the momentum increases, the constructions become more intricate and dark, set against claustrophobic backdrops. The ominously titled Drills For Devil Dub is perhaps the most openly dance floor-orientated piece. Proudly bearing its digital dancehall roots on its sleeve, the track's chaotic progress is supported by processed vocals and a tight broken beat, and provides in the process one of the most thrilling moments of this album. Elsewhere, Trust These Apart shows off a more subtle side to Gibson's music. Although the hectic slicing still operates here, Gibson leaves enough breathing space for a gentle melody to develop, while Lack Of Nursing and If You Only Knew both hint at post-party muffled-sounds one would experience following prolonged exposure to loud music.

Behind the suspiciously named Electronic Music Composer moniker are Kenneth Gibson and Ian Read. Elements of EFM are clearly audible all the way through, with the insurgent dancehall beat of Everything New Is Old firmly setting the tone. Full-on digital beat explosions and fat bass lines supported by violent bouts of acid squelches are found on the best part of this record. It is often difficult to make up any proper melody through the constant assault of tachycardiac rhythmic patterns and loose sonic elements.

If tracks such as Everything New Is Old or Wretched Idea do not bring anything radically new to the hardcore equation, EMC often play with some interesting concepts on this album, as on the falsely downbeat Regional Carcas or the strange post-industrial disco of Skintight Kink, while the pair also demonstrate a similarly interesting exploratory process, albeit tamed, on some of the more subtle moments on offer here. Adoption Of The Blank is perhaps the clearest manifestation of this, with Gibson and Read processing white noise and radio interferences into an interesting piece of ambient.

Less hectic than Venetian Snares, more arrogant than Squarepusher, Eight Frozen Modules and Electronic Music Composer evolve in the vicinity of each other, with Crumbling & Responding and Abandon Music showing extensive family traits. More complementary than similar, these two albums could almost be two sides to a same story.