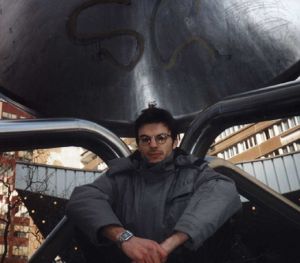 An established fact: collar labels are uncool, they just stick up yer neck or feel itchy-scratchy in the back. Surprisingly enough, a name tag is the first thing to be noticed on VERSATILE's "Family Album" sleeve. The kind our mothers used to sew and stitch all over our stuff in kindergarten. But if you dwell a little longer –that is to say open the record and read the sleevenotes- this CD is actually a case of mislabeling of its own. Joakim Lone Octet is nowhere to be seen. Neither him nor any of the ersatzes that have been sewn on his back by careless jokers – Joakim Bouase, Joakim Octet, Joakim Lone…all names taking more letters that can reasonably stay put on simple piece of cotton.

Done with the virtuoso pianist, jazzhead (Alice Coltrane, Sun Ra), occasional indie kid (Pixies et al.) and admirer of stupendous electronics (Basic Channel, Carl Craig, Aphex Twin). Abdel Rahman El Bacha's star student has skipped class. No more "cadavres exquis" and surrealist puns, instead you get Joakim period. A renewed artist. Someone punkier and rougher and sometime a true "lockhead" as his forebear Dj Gilb'r would put it.

Hardly has the new mask replaced the old that the season kicks off again with the release of the acclaimed EP and Radio Nova favorite, "Cotton Gun". An instant classic that no deejay –except for Dj Harvey – has ever been able to drop in the middle of a set, sole solution being to use it as starter or ending note.

A few months of dereliction came right after, that had Joakim engulfed in the TIGERSUSHI record label and internet website. The stakes is high and both project finally reflect the odd ecclectism and exquisite but knowledgeable vesrsatility of debut releases "Tiger Sushi" and "Tiger Sushi Remixed". Draped in a heavy cloud of smoke, "More GDM", the label's debut, is a permanent musical back and forth between Paris and New York No-wave alright but never no-future, Joakim already stealthily advanced the compositions of his third LP, "Fantômes".

The trick works. Forget about the Octopussian jazzmen. Time for something rawer and stronger. PIL, Robert Wyatt, Philip Glass or Arthur Baker had long before already all understood for the better that 'love isn't a game poodles play'. Not the time to jettison all pretense to higher composition either; but if 'John' walks down his tragicomical waterfall of chords there's no point in forgetting the comic and no reason why we shouldn't grit some teeth sometime. Also, lest we forget, all decent 'Fantômes' never shied away from a wee bit of classic songwriting. The omnipresent gastronomic obsession set apart, this is the work of a renewed artist. The fresh tomatoes of his Tiger Sushi debut have no doubt fed more than a couple 'Vegetarians'.