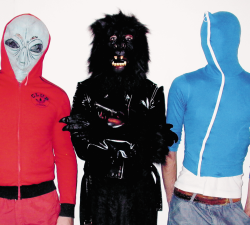 A producer (Jérôme Pincon), a dj (Gérald Peau), and a female singer (Carole Gola) from Nantes/Angers have found their ability to boil up their Belgian based Techno/Industrial influences to serve a dish that is something like Dub-Tech-Elektro made in France of 2004.

The debut of Vendas Novas with its double meaning name BARRY BLACK picks up Industrial in a way of playful freshness, yet moreover a mainly 4/4 kick drum and upon the rhythm based swinging melodies make it easily be put on a Tech-Elektro shelf. Their reflection of past musical areas is no means to an end. These influences are more used by Vendas Novas as impish elements. Even almost insoluble mixtures are possible to be scrambled as proven in songs such as 'Find Her And Catch Her', where they put a kind of P-Funk feeling above technoid grooves. Often, the base of understanding of their various ideas is a dubby rhythmic feeling, having the straight kick whilst waving in deep, mellow loops.

Vendas Novas' music is dance music; versatile, beating often 120BPM, straight forward and surprisingly refreshing.

Vendas Novas sing English, but there is this certain funny handling of artistic subjections, which let the Frenchs shine thru.

Their live performance is like a cooking session, a musical Haute Cuisine. To be more clear: take all ingredients, stirr them up together in an Akai MPC, put a few dub plates and vinyls around like dough, draw a few sequences thru the synthesis oven, and - what you got at the end is Vendas Novas' delicious recipe.
Performances