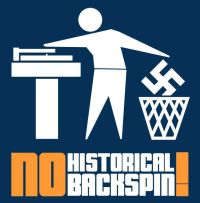 AMSTERDAM - Vrijdag 13 Juni vindt het eerste No Backspin evenement plaats in The Powerzone in Amsterdam. Nederlandse artiesten uit de dancescene maken hier een statement tegen racisme, intolerantie en geweld. Hiermee krijgt een succesvol Duits concept definitief navolging binnen de Nederlandse dancescene.
No Backspin is een initiatief van de stichting "No Historical Backspin". Dit is een samenwerkingsverband tussen de online dance community Beatfreax en Rookie Entertainment. Het is een vervolg op het Duitse initiatief van onder meer Monika Kruse. Zij heeft met dit concept artiesten als Thomas Schumacher, Mousse T, ATB en Paul van Dyk achter zich gekregen. Kruse en de overige artiesten zetten zich al jaren in tegen racisme, geweld en intolerantie. De belangrijkste peiler van het concept is de belangeloze en kosteloze medewerking van alle betrokken artiesten en organisaties. De opbrengsten die het concept met zich meebrengt zullen door de stichting ten gunste van de doelstelling worden besteedt en aanverwante instanties zoals de Anne Frank Stichting en Stichting Zinloos Geweld.

Voor het eerste No Backspin evenement op vrijdag 13 juni stelt The Powerzone haar locatie kosteloos beschikbaar. De DJ's treden eveneens op zonder er een vergoeding voor te vragen om op deze wijze het concept te steunen. Informatie over de line up volgt later via de website http://www.nobackspin.nl en haar mailinglist.