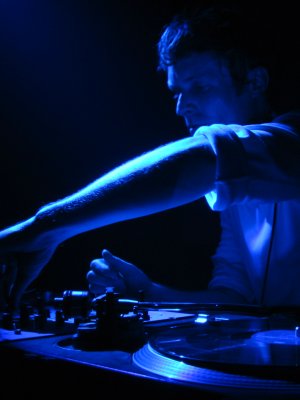 In 1986, at the age of 14, Jeff Milligan (aka :Algorithm) had his first exposure to electronic music via some of Chicago, Detroit and Toronto's earliest alternative radio programs. A year later in 1987, Jeff decided to dedicate his life to DJing and producing music. His close proximity to the Great Lakes Triangle : Toronto, Chicago and Detroit, led Jeff to develop a foremost influence from the early years of American house and techno. As Jeff delved deeper, he developed a keen interest in various German and British artists and record labels. The music Jeff played at the time and still does to this day, has a dual, continental European and American influence, the more experimental, more minimal sound of the two continents, the origins of what evolved into a unique Canadian sound. Jeff was the first DJ to expose a Canadian audience to his unique brand of techno and house music selections, preceded only by Richie Hawtin. Jeff's highly technical, three/four turntable style put him in high demand across North America and by the age of twenty, Jeff was playing the Midwest circuit (Detroit, Chicago, Cleveland etc.) and nationwide, all over Canada. Jeff is legendarily regarded by his contemporaries as one the most technically talented DJ's in the world. By 1999, Jeff began touring the worldwide circuit. Jeff has since performed in almost every major city in Europe, North America, and Japan, spanning the globe, maintaining a rigorous tour schedule, DJ'ing and performing live at the world's finest venues in support of the music he loves. He has headlined alongside almost every prolific producer to have graced the electronic music stage in the past decade. Jeff's own musical compositions have also had considerable impact on the world and he is highly regarded as a musician as well as a DJ.

Jeff's DJ production work for +8, and loops on the first Serotonin Records (NYC) lockgroove compilations, were among the first released material under Jeff's "algorithm" moniker. Since then, Jeff has developed a long and impressive discography with numerous releases on a variety of international record labels over the past few years, including : Blank (Japan), !"@.*!% (Slovakia), Foundsound (USA), FAT32 (Japan), Tictactoe (Denmark) 240 Volts (UK), BipHop (France), Tongut (Switzerland), Transmediale (Germany), Background (Germany), NextDoor (Canada), Onitor (Germany), Mutek (Canada), Sublime (Japan), Moorroom (Italy), Traum (Germany), Force Lab (Germany), Force Inc. (Germany), Revolver (Canada), E.R.A. (Canada), Tone (Canada), Blue (Canada), Silver (Belgium), +8 (Canada), Switch (Canada/USA), Serotonin (USA). Jeff's last full length album project, "Composure" (Force Inc., Germany) features Jeff's recomposed work of some of the world's most prolific artists including : Farben (Klang Elektronik), Matmos (Bjork), Kid 606 (Tigerbeat), Sutekh (Context), Twerk (Force Inc.), Safety Scissors (Proptronix) and Donacha Costello.

Jeff spends considerable time on top of his whirlwind tour and production schedule curating his imprint, Revolver Canada Recordings, which he founded in 1999. The first 12" EP on Revolver (written by Jeff and former label mate Robin Roy) was met with high critical acclaim worldwide, leading to Jeff's first European tour alongside friend and future label mate, Cynosure's Mike Shannon. Over the years, Revolver Canada has released an impressive catalog, primarily consisting of Canadian artists including Montreal's Akufen, The Mole, Mike Shannon and Deadbeat, Toronto's Tomas Jirku and Pan/tone, and Kitchener's, Jay Hunsberger. Revolver has also collaborated with various prolific international artists with remix work appearing by artists like Shaka (Switzerland), Perlon's Dimbiman (Germany), Sud Electronic's Portable (South Africa), and Boxer recordings Frank Martiniq (Germany). Revolver has given many Canadian and international artists considerable global exposure and has substantially raised the profile of Canadian electronic music. Revolver is widely regarded worldwide as one of Canada's most important and influential electronic music labels and it is because he applies the same rigorous integrity to his DJ selections and his productions as he does to his label. Jeff has always chosen uncompromising artists and tracks for Revolver that are unique and original without the restraints of genre. Jeff has always had a policy of setting trends, never following them. Currently, Jeff moonlights between Toronto and Montreal, Canada and Bratislava, Slovakia from where he manages the European side of Revolver and Cynosure.