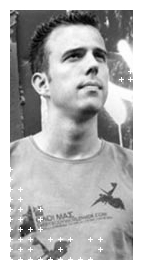 On Saturdays , he went to the Fun Factory in Zaandam where he got acquainted with the Progressive technosound of the Advent. And this way he got inspired to become a DJ too.

He started organising small parties together with a friend in order to be able to play as often as possible. One thing led to another, he was invited to play at FFWD Dance Parade because he has won the mix competition of the POP unie.Warren Fellow is also invited doing gigs such as: Acces to Amsterdam, Channel X, Scorpio ( Mallorca ), Sax (Germany), Velvet ( Germany), Capital (Eau dance theatre, The Hague), Goldfingers (Rosmalen), Eclips (Burgerweeshuis, Deventer).

What makes Warren Fellow an outstanding performer is the fact that he combines musical talent with a "sixth sense" for what the audience wants. He really communicates with his audience, beating them up and pushing them to unknown heights. Warren Fellow plays for his audience and makes a smashing show of it. He makes the audience go completely wild, until (so to speak) 'the roof comes off'.

Warren Fellow had his first producing experience in the recording studio with a friend about two years ago. Tim J invited Warren Fellow to get in the studio with him. A nice track called 'Qualified to Dance' came out an has already been played by Carl Cox.

In Januari (2004) this year Warren Fellow has started his own record label 'SMOKE' with Tim J. There first release will come out in April this year. This co-operation can be seen as foretoken of many future co productions.
Performances