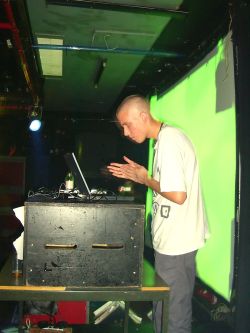 Reimer Eising is Kettel (1982), currently citizen of Groningen (Netherlands), elixer-brewing, camping-loving and musicmaking sorcerer-to-be. Part of the mysterious USA-based Kracfive label, where he released his debut album 'Dreim' (2001) and an vinyl/cd EP peculiarly titled 'Look At This, Ha! Ha! Ha!' (2003), containing Kettel-tracks from the past. Long forgotten songs, sung by gnomes and choirs containing crocodiles and blackbirds only. He performed live on the Eurosonic and Noorderslag festival in the Netherlands in january 2003, with his Kracfivian friend Christopher Graves (Colongib), playing a liveshow suitable for headnodders and dancing tomboys at the same time.
From the first Kettel cd the Plaid/Black Dog-comparison has always been there, and Eising's early work is indeed reminiscent of the playful and spun out melodies Plaid is so well-known for. More instrumental hiphop-related tracks appeared on the illustrious Planet-Mu label: a 7" entitled "Atomic Tadley" (march 2001) appeared in the 7"-series of the label, only 500 copies were pressed. This record is together with the Kracfive-releases probably the most looked-after Kettel record. Lucky trainspotters happen to find their copies on Ebay.
This 7" was not the only effort on Planet Mu. A 12" called "Tadley Management" appeared in early 2002. It is not clear if Kettel still has connections with this british cult-label.
In 2001 another 7" came out, this time on the scottish Mouthmoth label. The press, at least the reviewers who managed to pick up one of the 100 (!) copies, praised it's relaxing "backyard quality". On the flip side of this release Kettel's cat, Max, delivers a remix. People who try to find this record will be dissapointed: even Eising himself claims to be out of copies.
A busy year it was, 2001, because an other EP was released. This time through the popular idm factory from the UK: Neo Ouija. 'Red Pear 12" saw daylight in september.
Until then always releasing his tunes abroad, Kettel was finally picked up in the Netherlands by DuB records (the sublabel of the electro smashing Clone records). His albumsampler 'Cenny' (2002) had this organic, folky sound, even often described as the 'typical Kettel-sound': always full of melody and catchy rhythms. The follow-up on DuB was the album, called 'Cenny Crush' (2002). This "heartwarm-yum" album was picked by the national press with a big smile, and many interviews followed in which Eising described his music as "electronic pop music" and called it his goal to achieve as much as melodic subtility as possible. Earlier in 2002 the album 'Smiling Little Cow' was released on Neo Ouija.
Side projects during all those years were remixes for Multiplex, Ontayso and Metametics, various compilation appearances on Neo Ouija, U-Cover and more. Also a split 12" came out on Civik Records, side A containing 2 Kettel tracks, side B had 2 tracks by Canada's own idm specialist Setzer. It's been said Kettel grew up in the countryside, and the birds and nature around him inspired him. Is it true? Eising: "Nobody knows what would happen if I lived in Africa, but I guess my music would still be folky, but then with the sounds of monkeys and a giraffe here and there in it. What sound does a giraffe make by the way?"
Out of Eisings growing popularity in his own country, numerous liveshows took place. He played during the Virus festival in Eindhoven, the Dutch Electronic Arts Festival in Rotterdam, Eurosonic and Noorderzon in Groningen, and for the dutch VPRO radio (all 2003). And more.
Where the previous years were so full of new Kettel releases, fans must wait a little longer this year. Scheduled are the Look at This EP on Kracfive (mentioned above), and a brand new DuB 12" entitled 'Cuddle And Then Leave', containing the newest Kettel music. Previews and infosheets promise an evolved own style that explores jazz and classical music. This EP says daylight in october 2003. In the works is a new album for DuB.
Kettel has been playing piano since he was a tiny tot. His first compositions were made using pen and paper. Electronic composition expanded his possibilities, like he says, "the ultimate way of making every sound ever". Yet electronic experiments with gear and sonic hiccups is not his thing: "I'd rather write an opera or symphony once. I want to get rid of the extreme repetition that characterizes most electronic music. It is a process." The use of acoustic instruments is a new thing in his music. According to Eising music is about beauty, emotion and entertainment: "I know the whole world says it, but I say it three times louder. Every music without beauty is noise to me."
Performances