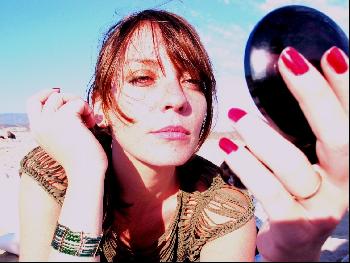 Dinky was born in Santiago de Chile in the year 1975. As a kid, Alejandra was fascinated by music enjoyed playing the piano more than anything else. She trained in modern and classical dance since starting with 12 years of age. In her dance career she learned to work and share with musicians and dancers, joined small companies, taught, choreographed, and danced for a Peter Gabriels concert in Chile. Dance gave her a strong ground for composition, phrasing and improvisation.

As a teenager she was inspired by bands like Cocteau Twins, Daf, Depeche Mode, Human League, The Cramps and Madonna. Thanks to her oldest sister who was living in Berlin in the late eighties, she got introduded to electronic music at an early stage. In 1995 she decided to visit her sister in Berlin, that trip was the beginning of her devotion to electronic music, clubbing, and her decision to became a DJ. In Berlin, she went to clubs such E-Werk ,Tresor and listened to Hell, Sven Vath and Stacey Pullen spin. Dinky was fascinated by the euphoria of the people, the energy on the dancefloor and the power of music. She sensed a close connection to the dance world she was already familiar with. During those days she bought her first records in Hardwax and got her first promos from of DJ Hell….Plastikman, Carl Craig, Daniel Bell, Dj Pierre, ESG, Arthur Russel, LFO etc …It was always between Techno and House, Chicago and Detroit, bleeps, clonks and acid stuff, but up till this day she is open to any kind of music wich she likes.

Back to Chile, Alejandra asked a friend to teach her how to mix and decided to start DJing. Within a couple of months she was already playing out, some of her experiences were a bit of a disaster but Dinky wasn't one to give up easily.

It was during those Chilean parties where she met and became friends with musicans such as Atom Heart, Marcus Nikolai, Luciano, Ricardo Villalobos, Sieg Uber Die Sonne and Sun Electric -all of them a very important influence for her as an artist.

Santiago seemed very far and Dinky wanted to spread her wings, so In 1996 she decided to leave home for NYC .The priority was to attend the Martha Graham School of dance, but eventually the night-life and the music of the city became a priority. In 1997 she had her first experience in a music studio with Jorge Gonzales (Chiles' biggest popstar and former singer of Sieg Uber Die Sonne) they did a track just for fun and instanty Dinky fell in love with producing.

Rapidly, she started geting more involved with the dance music scene in Manthattan, she was entering a difficult industry with male competition and hard club laws, but her passion for DJing was stronger than the obstacles. 1998 was the peak of her DJ fever, she was playing 4 times a week, no matter where or when, she just wanted to play records. Within a year,Dinky had played in almost every single club and bar in Manhattan. In 1999 she started her professional DJ career and began spinning in Central, South and North America.

At that same period, Alejandra started working in record stores. It was at Sonic Groove where she became part of a small little family of labels, promoters, clubs, distributions, sales, the music business and all the music she had missed out on in the past, the record store turned into her second home. Same year (1999) Dinky decided to produce her own music after a small DJ-crisis due to the closing of many clubs in Manhattan. Owning nothing but an MPC 2000 and trying to express herself through music, having no knowledge about computers or machines, led to many a sleepless night and many frustrating results – fighting with cables and machines for a while until she discovered simplicity to be the best way to express herself. Six months later, Dinky signed her first 2 EPs with Traum Schallplatten, an unknown label at that time. It was Traum that helped increase her profile in Europe - press and critics of the records where good and instantly suported by the media and Djs .

Between 2000 and 2001 she did EPS for Sonic Groove and Carpark, released 2 more EPS and one CD on Traum and was asked to Anthony Rother for Kanzleramt. In September 2001, she was invited to her first European tour, performing as a DJ in clubs like WMF, Tresor, Studio 672 and Batofar.
Back In NYC she started her own club night in Chinatown, where after a while, she joined forces with her friend Magda, still her partner in crime. The events became popular and survived the New York hype and lasted for a year. The same year, she finished her second LP Black Cabaret with pop, disco,electro and urban influences . Black Cabaret was the story of her and her friends life in NYC, a story of clubbing, city, afterhours and black culture.

In February 2003, just before the relese of Black Cabaret, Dinky is forced to abandon the US due to a bureaucratic problem with her artist visa. This sudden change forced her to go back to Chile for some months, cancel her American tour and change her life. New York had made her stronger but she was feeling limited and isolated, unable to expand herslef as an artist, so this change was for good.

The press and critics of Black Cabaret were excellent and before the record was out it was played by John Peel in Radio 1 and charted by Trevor Jackson in the UK. During the folowing months, Dinky was overwhelmed by unexpected interviews and featurings. In May of 2003 after hanging out in Chile for some months Dinky was invited to an important 3-month tour arround Europe to promote her album. She performed live for the first time and also DJd at big festivals and clubs from over the old continent and has been doing so ever since.

Today Dinky lives in Berlin where she reunited with old friends and colleagues, the city recieved her with open arms and she found new roots, friends, support, freedom and inspiration.
Performances