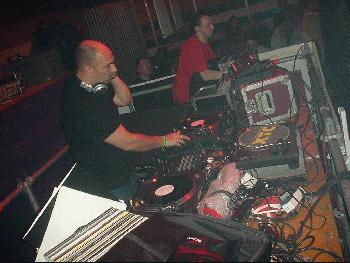 Andy Farley was born in Brisbane in 1966, and came to England in 1968 when his parents moved back.
In the mid eighties he began collecting 60's R&B and soul records and built up a big collection which he eventually sold for far less than they were worth to buy his first set of decks!
He first began clubbing on the Birmingham gay scene in 1987 and was blown away by the Hi-NRG music of the time, most of which he had never heard before, and it was all mixed together too! He knew then that he wanted to do this (buy all the best records and mix them together!) Andy's first break came in 1989 when the great man himself Tony de Vit who at the time was resident at The Nightingale Club in Birmingham changed his music policy drastically from Hi-NRG to the new Belgian rave sound, which was a bit of a culture shock for many at the time!! So Andy was asked to come in and play Hi-NRG for the more faint hearted!
Andy changed his style to house music in about 1993, and began to play at other clubs in Birmingham before beginning his residency at Sundissential in 1996 and hasn't looked back since. Andy guests regularly around the UK, and so far has traveled as far afield as Australia.
Andy plays hard house and has currently recorded nine tracks. The first titled 'Concentrate' was released on the Nukleuz label at the end of July and has been included on the recent Slinky compilation by Lisa Lashes for Club On Magazine, and also by Fergie on a forthcoming Trade compilation.
Andy also reviews in the Hard House section of M8 Magazine based in Glasgow.