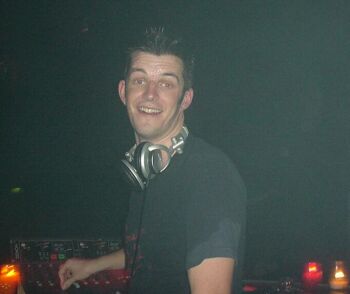 Tom Harding has been playing pioneering, underground hardhouse on Europe's dancefloors for the best part of seven years. In his home city of Bristol, Tom has also grown to become one of the most respected local residents.

Tom's impressive musical development stems back to 1995 when he won Muzik's Bedroom Bedlam, also going on to win a host of other awards from Mixmag as well as Club UK's New Talent - all this in one year!

It has been a rapid upward spiral for Tom since those early breaks and in just fout years he has earned residencies at Deluxe, Hippo and Beatroot in Nottingham, Club 414 in London as well as at one of Amsterdam's most prestigious clubnight's HQ at the legendary Melkweg, which has won the Clubnight Of The Year Award for the past two years.

After this firm grounding in Europe, Tom's sound and deft turntable touch led him be voted the 2nd most popular DJ in Holland. The peak of his popularity in Europe, however, was undoubtedly his headlining set as last year's Dance Valley Festival in Amsterdam, an event that was a monumental turning point in Tom's career. He headlined the 40,000 capacity event over the likes of Carl Cox, Jeff Mills and Hardfloor, a true testament to the durability and dancefloor quality of his sound.

Tom also continually finds himself in the studio producing and mixing. His recent work includes Tom Harding vs Jon The Dentist - '1998' (Phoenix Uprising) and chart topping mix album 'Tom Harding Live at Dance Valley' which stayed at No.1 in the Dutch Charts for an astounding 7 weeks.

As Muzik magazine said: 'you can expect big things from this man."