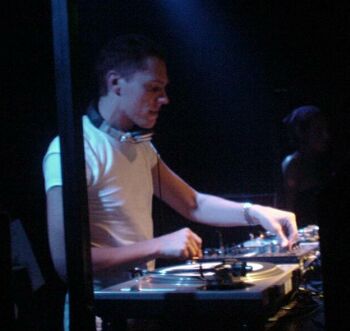 Tiesto is waarschijnlijk Nederlands meest bekende en populairste DJ. Samen met Arny Brink heeft hij zijn eigen Blackhole label opgericht waar o.a. zijn populaire Magik series op worden gereleased die wereldwijd bekend zijn. Zijn populairiteit reikt tot ver buiten onze landsgrenzen, Amerika, Australia, noem een werelddeel en Tiesto heeft er wel gedraaid. Tiësto is meerdere malen uitgeroepen tot beste club dj tijdens diverse awards. Hij liet grootheden als Paul Oakenfold, Paul Van Dyk, Carl Cox, Roger Sanchez, John Digweed, en Sasha achter zich. In 2004 stond de Bredase Tijs Verwest voor de derde keer op rij op nummer 1 in de djmag top 100. Een prestatie die geen andere dj ooit geleverd heeft.

Ook is Tiësto de eerste dj die ooit een Solo concert gaf. Op 10 mei gaf hij een solo concert in een compleet uitverkocht Gelredome. Na het succes van 2003 was het op 29 en 30 oktober van 2004 weer tijd voor een nieuw concert en ook deze keer vlogen de kaartjes over de toonbank.

Officiële biografie:

Music has always been the biggest passion in Tiësto's life and he felt the need to share that passion with other people. Between 1985 and 1993 he performed as a resident at several clubs in holland and in these years he developed an important foundation. Together with Arny Bink he founded tge record company Black Hole Recordings which provides the world with all sorts of quality dance music. On Black Hole Tiësto has his own Magik and In Search Of Sunrise Series, which are very succesful all over the globe. He also mixed the first two Space Age volumes, and most recently Nyana.

His remix of Delerium Featuring Sarh McLachlan - The Silence was the first house track ever broadcasted on daytime radio in northe america and was four weeks in the U.K. top 10 chart. In 2001 Tiësto started a new sublabel, MAGIK MUZIK which is providing the world with Tiësto's finest productions and his favourite tracks. The first releases were the 2001 anthems Flight 643 and his long awaited artist album In My Memory, and lately massive anthems from Umerk, Mark Norman and Mr Sam vs. Fred Baker. Summer 2002 Black Hole Recordings UK is born, a sister company set up to service the english market. After winning almost every dance related award in 2002 a crown was put on his career by being voted the number 1 DJ in the world in DJ Magazine's top 100.
The year 2003 has been a year filled with highlights. Tiësto is now officially the first DJ in the world ever to sell out a stadium event with a solo performance for over 25.000 people. Like Nyana, the Tiësto In Concert DVD has reached the gold status, same for the hitsingle Traffic which is the first instrumental track to reach the numner 1 chart position in 23 years. In 2003 Tiësto has won 3 TMF awards (Holland & Belgium), 2 Dutch DJ awards, one MTV holland award, and was again number 1 in DJ Magzine's top 100, first time a DJ got this spot twice in a row!