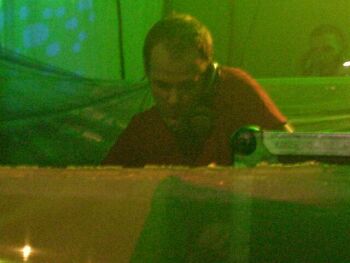 Adam Beyer became dedicated to the fascinating world of rhythm early on. After playing the drums as a teenager his obsession turned to the decks. In 1990 he bought his first set of turntables and started spinning a wide range of hiphop, hiphouse, acid and techno at local parties and clubs. Beyer soon learned how to blend his sets in a thoughtfull and highly focused way, a talent that has now developed into his trademark style. In 92 Fellow school friend Peter Benisch introduced Beyer to the sampler, a year later they got their first record deal with New York based Direct Drive. After finishing school in 1995, Beyer started work at the Planet Rhythm record store while releasing some tracks under a variety of names and continually djing all over Scandinavia.

Adam Beyer sites Drumcodes 1 (Planet Rhythm 1995) as the first record to define his style; hard, percussive and loop oriented. This 12" names Beyer's future label and was soon followed by his critically acclaimed debut album Decoded (Planet Rhythm 1996). His need to create the perfect dj tool gave rise to the launch of the Drumcode label allowing him total musical freedom. The label«s strong concept and high production levels meant it enjoyed immediate success. After six releases Beyer launched his second label Code Red focusing on a slightly softer side of techno. Code Red finished with its 10 th and final release Stand Down (Code Red 1999) which was a compilation of remixes from various international artists.

His production skills soon brought Beyer to the attention of djs worldwide and global bookings soon followed. His meteoric rise has been cited as one of the catalysts for Swedish techno's current influence. He pinpoints the Stockholm sound as being closely linked to his network of friends in the city aswell as the triumvirate of himself, Joel Mull and Cari Lekebusch. After many releases and remixes on various labels he launched the second album Protechtion (Drumcode 1999). While the market was being flooded with monoton loop oriented techno Beyer worked on strengthening the arrangements that characterised his earlier works, aswell as adding melodic strings. Still with a clear focus on the dance floor.

The same year Adam Beyer and Cari Lekebusch linked up to create a stunning live act first witnessed in London to instant acclaim. The act created the intense feeling of a creative dj set while the duo played back to back mixing their production styles.

As Drumcode has focused on Swedish artists, with Remainings III (Drumcode 2001) Beyer launched a new limited series. Halfseries (ie 20.5) includes remixes from international artists aswell as up and coming Swedish producers. The series contains ten releases and a final compilation.

In 2002 Beyer decided to create a new label, Truesoul, which would allow more space for a wider range of influences. Truesoul started as a closed internet discussion with friends in Stockholm. The group was founded by Henrik Fagerberg. The new label profile was created by Magnus Eckh´ll at the Stockholm based design studio Polygon, who is also doing the artwork for the music covers. Truesoul is influenced by twenty years of listening to electronic music and will focus on conceptual projects and full length albums.

Adam Beyer«s focused djing and uncompromising production style has brought him to the global arena of techno, continually playing clubs and releasing records all over the world. Despite his young age, Adam Beyer has become one of techno's leading figures.
Performances