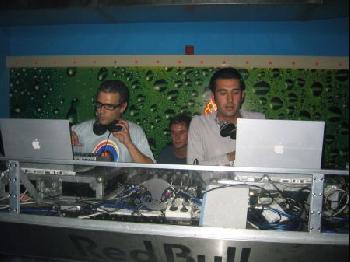 LE CLIC
Noah Pepper (1973)
Julien Chaptal (1978)
Aron Friedman (1979)
Julien Chaptal grew up in Paris. After living in Canada and the US for a while, he moved to Amsterdam in 1999, where he studied to become a sound engineer. Working in Amsterdam's Melkweg-venue is where he met Noah Pepper.
Noah was born and raised in Amsterdam after his parents had moved there from the States. Apart from regular slots as a drum 'n bass deejay in the Melkweg, he played worldwide, ranging from clubs in San Fransisco and New York to events like Spain's Sonar festival. Julien had also been working as a housedeejay in Montreal. Both of them had aspirations to produce music and in 2000 they decided to join forces.
Julien and Noah were heavily influenced by dance music of the early nineties but shared a love for seventies disco and soul, so Le Clic started off producing filterdisco house. It wasn't untill the fall of 2003 that they teamed up with Aron Friedman. Starting off as a deejay, Aron became resident for two succesful techno-nights, Traffic and Mono. But it was his productions and vocal work for Bleistifft (a Dutch electro-act) which got him noticed by Le Clic. The three of them spent some time in the studio together It wasn't untill a guest appearance for the 'Grote Prijs'-finale that Aron officially joined Le Clic.
Although they didn't win a prize that night, the performance did nourish their determination to further improve Le Clic. All three of them have a different perspective on producing, which gives their music its unique blend of house firmly rooted in the discosound, but flirting with electro and minimal techno. On stage the combination of vocals and electronic music creates a vibrant atmosphere which is bound to make any dancefloor move.
Performances