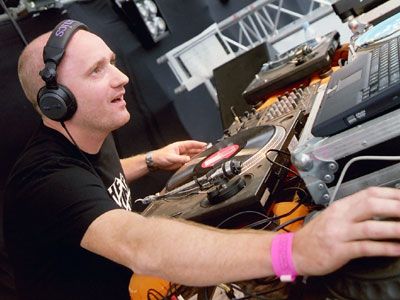 Rho was born in 1969, dj since 1992. his first contact, with the from America imported house, was in the youth centre Fenix in Sittard. From this moment on he got infected with this new kind of music stream. After he mixed in the Fenix during a year, he started playing records on parties of regional clubs en party-organisations in the summer of 1991. During the period of 1992 till 1995 several bookings followed in club- en party land. Because of those bookings Rho got the change to develop himself as a dj.

In 1996 Rho was discovered by the small but rural well known club Funki Bizniz in Eindhoven, where he became, after several guest acts, one of the resident dj's. In the Funki Bizniz Rho developed his playing style till the style which made him so recognizable: dirty and sexy techhouse. However as a Rho is very varying. Regularly you can hear an unexpected sound, which you wouldn't expect from him. However it's techhouse what has his preference and where he got his well known name from.

Rho decided to start organizing his parties at the end of 1997 under the name "Hot Kitchen". After three try-outs in the Fenix in 1998 Rho decided to work out this concept farther. Two successful parties in the Sirkeltheater in Sittard (July 1998 and new years eve 1998/1999) have lead to the fact that Hot Kitchen could call itself an "official" party organisation at 1 January 1999. Ever since 1999 Hot Kitchen has organised 20 parties at exclusive locations as the Mergelgrotten of Kanne (Caves of Joy), Castle Limbricht (Castle of Joy) and Castle the Hoogenweerth (Castle Mania) where the guarantee of the underground character and the belonging atmosphere de main issues are in the hope for a successful party. However not only the music, the location and the public are defining a good party. Acts, special creations, visual projections, international artists, new flyers and a strict door policy are ingredients which Hot Kitchen the last two years has add to the concept, to guarantee the quality and professionality of it's parties.

One of his career highlights was the release of his own Hotkitchen compilation cd "In the Dutch Mountains", containing tracks of Dutch producers only. This release was very well received in the national and international dancescene, thanks to the overwhelming media attention.
The success of the parties contributed the fact that also his name as dj become more and more well known, this resulted in invitations of more well known clubs and party organisations of the country.
The hard work was finally rewarding. Meanwhile Rho often stands on flyers within the (inter)national dj top as Junkie XL, Remy, Michel de Hey, Terry Francis, Danny Howells, Dave Angel, Derrick May and Jack de Marseille to give some examples.
Performances