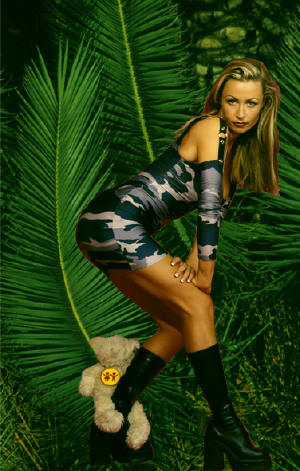 You wouldn't think that a professional career in modelling would lead to becoming one of the country's most sought after hard house DJ's, but that is exactly what happened to Charlotte Birch. Originally from Birmingham, the 28 year old lingerie model is fast becoming one of Pure DJ's biggest hard house DJs.

Charlotte used to be a regular at raves in the UK, and when one of her best friends became annoyed at getting nowhere in the world of Djing, Charlotte stormed in, scooped up his decks, mixer and his prized record collection of house tunes.

This is where it all began for Charlotte, who then landed a night playing at Naked Twister in Litchfield. Her talent soon became obvious when she was snapped up by Decadence and Miss Moneypennys, becoming Tour resident for Bakers.

Charlotte's style has evolved somewhat since her first days DJing back in 1996. Her previous style of funky house, disco and old classics, has now been replaced by hard pumping house, which seems to be embracing much of the club scene at the moment. This style has once again impressed the major clubs and promoters, leading to gigs at Sundissential, Golden and Slinky.

2001 began with Charlotte's first production, 'Gladiator,' on Bulletproof records, which proved a massive hit amoung the hard house faithful. It went on to reach number 11 in the Massive Dance Chart and was played on Radio 1. Her second release 'Itchy and Scratchy,' was also a hit on the hard house scene. Charlotte also had the honour of mixing the cover CD for the April edition of Ministry Magazine.

This Summer Charlotte also played for Charlie's Angelz in Ibiza, Dance Valley in Amsterdam and also to a crowd of over 5,000 in Seattle.

Currently, Charlotte is playing at all the major clubs in the UK including: Slinky (Bristol), Storm (Coalville), Frisky (Northampton), Oxygen (Edinburgh) and ROAR (Cardiff).

Look out for Charlotte's new release 'Airwolf,' out soon. Charlotte will also be appearing in the Sundissential 2002 calendar.
Performances